Google uses disruptive 'poem' tech to announce new Chromebook availability
New technique from ad-slinger inspires El Reg poem-post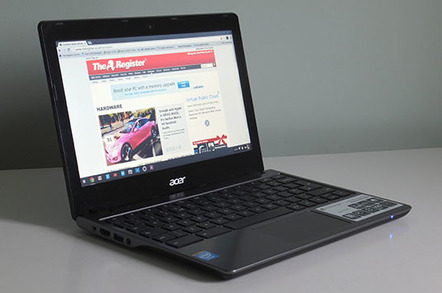 Google has announced that Chromebooks will soon be available to buy in nine more countries.
The advertising company said on Monday that its eponymous key-slabs would soon be available in New Zealand, the Philippines, Norway, Denmark, Mexico, Chile, Belgium, Spain, and Italy.
"Chromebooks are coming to nine more nations to improve computing for all generations," the company's Director of Chromebook Marketing and Occasional Versifier, David Shapiro, wrote.
"When Chromebooks in these countries alight, We hope our new global friends find some computing delight."
The rest of the announcement was also in verse, which is a legacy technology used to animate scoundrels and damsels in old app-display devices called folios.
Google launched the Chromebooks in 2011. Sales haven't been huge – 45,000 were sold in Western Europe in the first quarter of 2014, but the company has high hopes the devices could do well in emerging markets.
Put another way:
Google, an advertising giant,
Hopes consumer wallets will be pliant
When they search away from Tim Cook
And instead seek a Chromebook
And find the company most compliant.
For now Google's money-spinners are here
In nine regional spheres,
Schmidt is feeling quite slick,
Page, quite quick,
And Brin has a big grin
Because Loon is the djinn
That can get ads through the wind
To land on the Chromebooks that are here.
—by Jacques Lark, dyspeptic hack, age 4 and 3/4.
®
Sponsored: Minds Mastering Machines - Call for papers now open