Entering the Dragon: A little data from Big China
Our man plunges into the eye of China's economic typhoon
Shenzhen at play
Naturally there's a stunningly modern underground system - four track in parts - to get you around. All the announcements and signage are in English, as well as Mandarin.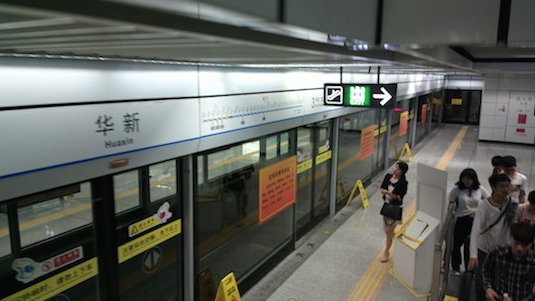 The Western brands are all present - but Chinese sales duty means that prices are much higher here than a few miles away in Hong Kong. So every Saturday, some 100,000 mainlanders drive over the border for some serious shopping. But the electronics markets are thriving:
The gadget tourist will head for the Yuangwang district - a mind-boggling cluster of stores and stalls typical of a bustling Asian market, with hundreds of apparently idential outlets. We visited in 2012 and filed a special report.
New shops open up all the time - many of them Apple stores.

That's right. "Stores" plural. Here are a couple, right next to each other, at street level: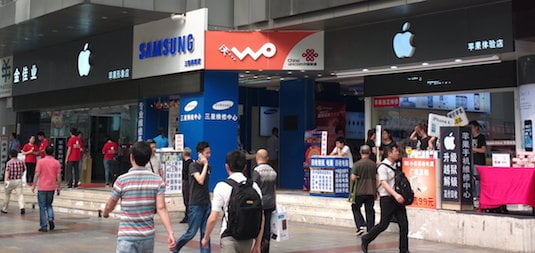 [ Click to enlarge ]
The red-shirted assistant gently advised me "no photo" as I took a closer photo of the one on the left.
The wares on sale here are a mixture of genuine Apple stock smuggled over the border, refurbished kit (the refurbishment taking place over many floors of the market) and knockoffs.
Here's a girl assembling a fake Apple plug.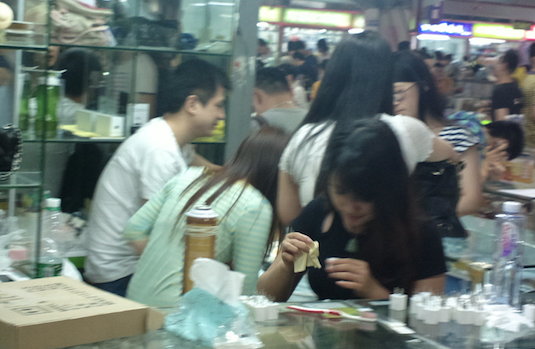 The goods on sale at UK prices are probably genuine, albeit probably not new. I picked up a fake Apple Earpod (UK price £25) for a pound. It worked first time. I dont' expect it to work a second time ...
Meizu is an interesting outfit: it began life making MP3 players, then iPhone and iPad clones. It became the biggest and most notorious cloner. Apple took out an injunction to stop it selling the clones, once Apple entered the Chinese market. Thanks to Android, it's been making its own designs - and will be making an Ubuntu phone, apparently.
Here's one of its high street stores, with cagey looking staff.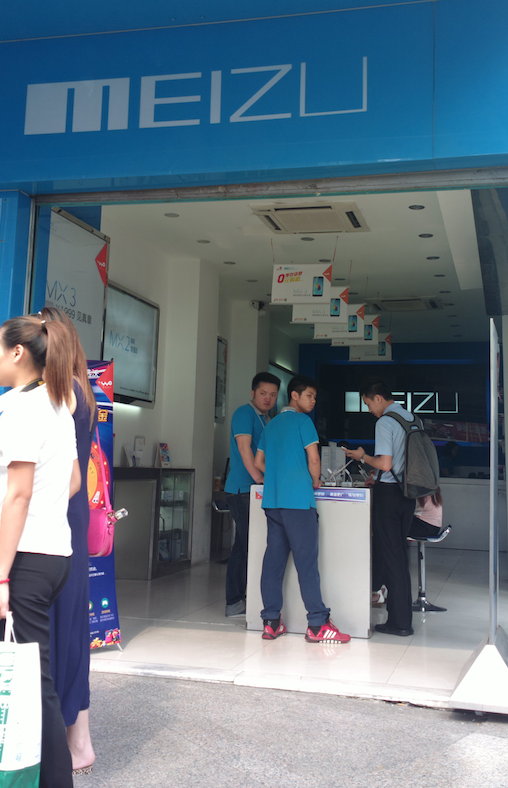 Shopping is the main leisure activity at night too - or at least, strolling around the vast night market is. Around the city, the authorities create new "leisure zones" hoping to draw in residents and visitors, this one being "OCT Bay Happy Mall" with an IMAX and dozens of restaurants. It's hoped cruise passengers who today dock at Macau, on the other side of the Delta, will stop here instead. A few hundred had turned up to watch a water works display.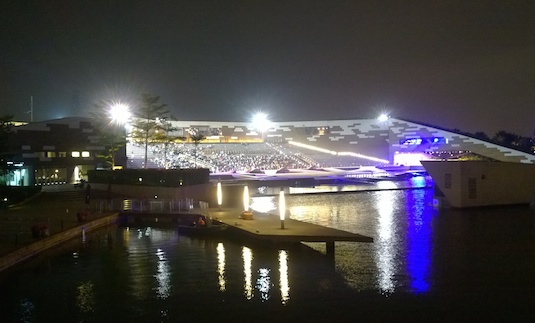 As you can see, they've got everything covered: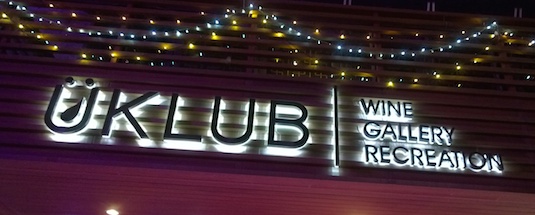 With Hong Kong only a few miles away, it's hard to see the attraction for a visitor of staying more than a night in Shenzen. But for the mainlanders - who only twenty years ago were riding bicycles in the dark - this must be quite marvellous. ®
Sponsored: Minds Mastering Machines - Call for papers now open