Rich bitch sorority girls actually more likely to put out than low-class 'sluts': Study
Who says sociology isn't a serious subject?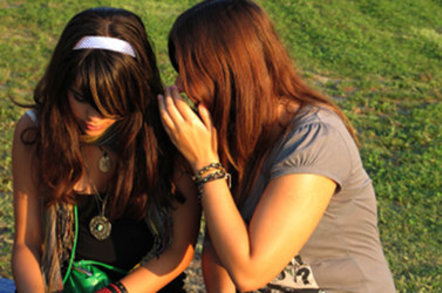 Devastating news on the "science" wires today, as authoritative profs of a sort have discovered that low-class poor girls well known to be "sluts" are actually less likely to give it up than posh sorority girls from wealthy families are.
"Surprisingly, women who engaged in less sexual activity were more likely to be publicly labeled a 'slut' than women who engaged in more sexual activity," says gobsmacked associate professor of sociology and organizational studies Elizabeth Armstrong, speaking of a study she had conducted among female college students.
According to Armstrong, this curious phenomenon comes about because of a class divide at American universities. Upper class rich-bitch sorority girls, who actually are slutty in that they sleep around a lot, dominate the social scene. Poor girls from lower-class backgrounds - who according to the study tend to keep their knees together rather more - nonetheless get labelled as "sluts" by the sorority vixens as a means of excluding them from the more exalted social circles.
"One of the ways that high-status women signaled to those trying to break in to their social groups that they did not fit in was by engaging in public 'slut-shaming,'" Armstrong contends. "This often took the form of calling other women out for their dress or deportment, as a way of making it clear that they did not fit in with the high-status group."
It seems that the downtrodden lower-status college ladies, not prominent in the "Greek party scene", sometimes attempt to fight back by counter-slut-shaming, but this basically doesn't work.
"High-status women barely recognized the existence of those they considered low-status," Armstrong said. "High-status women, who were from affluent families, defined themselves as 'classy' compared to other women whom they viewed as 'trashy' or 'slutty'."
We learned about the devastating not-actually-slutty "trashy slut" college girls and their posh rich-bitch genuinely-slutty sorority vixen oppressors from a press release issued by the American Sociological Association. Those wanting the full, red-hot details should read Armstrong's devastating expose, 'Good Girls': Gender, Social Class, and Slut Discourse on Campus, published in the June issue of Social Psychology Quarterly. ®