Welcome to the ISS. Don't mention Ukraine if you ever want to leave
So, comrade, who do you favour in the Virginia Slims tournament?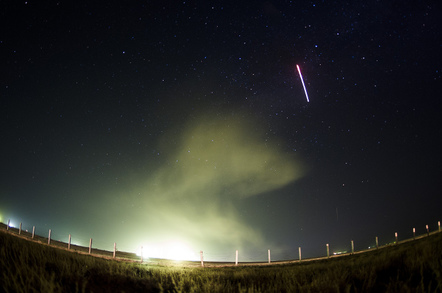 Vid Three astronauts, including two space newbies, were blasted off to the International Space Station last night aboard a Soyuz rocket from Baikonur Cosmodrome in Kazakhstan.
European Space Agency astronaut Alexander Gerst and NASA 'naut Reid Wiseman, who were on their first trips into space, and Russian cosmonaut Max Suraev were launched into a four-orbit chase to catch up with the station at 8.57pm BST yesterday. The Soyuz capsule took off when the station was at an altitude of 260 statute miles (418km), having passed directly over the launchpad just a couple of minutes earlier.
The rocket docked automatically to the Earth-facing port of the station's Rassvet Mini-Research Module-1 just under six hours later, when the ISS was cruising over the coast of northern Peru. The three new Expedition 40 members popped the hatch and brought the crew up to six strong at 4.52am BST. The ISS crew will stay at six until Commander Steve Swanson of NASA and Flight Engineers Oleg Artemyev and Alexander Skvortsov of Roscosmos head home on September 10, at which point Expedition 41 will start.
In the mean time, far away from US-Russia tensions over Ukraine, the astronauts have plenty to be getting on with – including two Russian and three US spacewalks and a variety of scientific experiments. The new crew members brought the equipment for the Multipurpose End-to-End Robotic Operations (METERON) with them, which they will use to try to remotely control robots on Earth from the space station. The ESA technology is aimed at future human exploration missions, where an astronaut in orbit around an asteroid or Mars could control a robot on the surface.
Other experiments the new 'nauts brought with them include the XSENS ForceShoes - commercial, off-the-shelf hardware to measure forces and torques under the foot. Up to four of the 'nauts will used the shoes measure exercise loads, which will provide data to help space travellers but also people at home who are restricted from exercise by injury, age, lifestyle or confined work and living space.
Hardware and samples for other research will arrive along with crew supplies on four different rockets during the Expedition's tenure - an Orbital Sciences' Cygnus, a Russian Progress, the ESA's fifth and final Automated Transfer Vehicle and the SpaceX Dragon. ®
Sponsored: Minds Mastering Machines - Call for papers now open