Kid crims don't need to skim: Paywave cards lead fraud rise
Fraud experts disagree: Tap'n'go won't get cash for a stash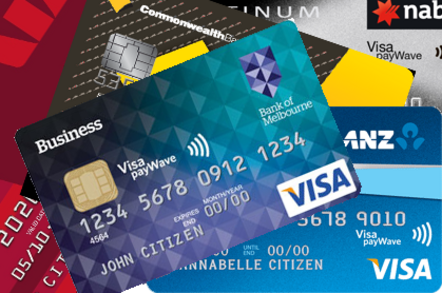 Victoria Police's top brass have criticised Australian banks for a rise in contactless credit card fraud arising from stolen tap and go cards.
Chief commissioner Ken Lay told reporters theft of the cards - which did not require proof of ownership for purchases under $100 - had contributed to a 48 percent rise in deception crime over the last twelve months across the Garden State.
"The banks simply need to do more to crack down on this," Lay said.
"It is simply not good enough and it's not good enough for the banks simply to say 'oh we'll cover the cost'".
His deputy Lucinda Nolan said children as young as 10 had stolen the contactless cards to make fraudulent purchases.
"We are very, very concerned with the trend and correlation between tap and go and residential burglaries in particular," Nolan told reporters.
"From a personal perspective, i'd like to see them scrapped."
Cards were stolen from mailboxes and houses, she said, noting crime was up 5 percent across the state.
But one fraud expert formerly working at a major Australian bank said the alarm could be a red herring because police had little visibility into more damaging and prolific online fraud.
"People report their wallet getting stolen to the police [but] they do not report their card number being used for card not present [fraud]," he said.
"Police don't generally see most of the day-to-day banking fraud that goes on as it isn't reported, so [contactless fraud] looks like a crime wave when it's really a drop in the ocean value wise."
He suspected contactless fraud could be on the rise among drug users due to its high liquidity, citing figures in a Victoria Police report that robbery had declined 12 percent. He suggested pinching contactless cards could lend to a reduction in muggings and physical assaults.
Mastercard Australia Andrew Cartwright said the company's statistics did not show an increase in fraud against contactless cards.
Researchers have since 2006 developed a variety of hardware and software platforms to steal contactless cards via wireless transmissions. Some were able to break through protective wallets.
Researcher Kristen Paget developed a wallet protector dubbed Guardbunny which squealed a high-pitched sound and illuminated the eyes of the bunny logo glow (as pictured) when RFID signals were detected. ®
Sponsored: Minds Mastering Machines - Call for papers now open