ProDesk colour 3D printer's secret: It gives hot models great head
Squirting nozzle performs in five-way session for Reg hack
A spool and his money are soon parted
What makes the botObjects printer special is the print head. The five coloured filaments are driven by wheels in the base of the printer through feed tubes to the print head where they are melted and mixed. This technique sets it apart from most fused-deposition modelling printers, which use an extruder to pull through the filament – and radically different to other printers that use individual heads to print each colour so you can't mix and generate shades.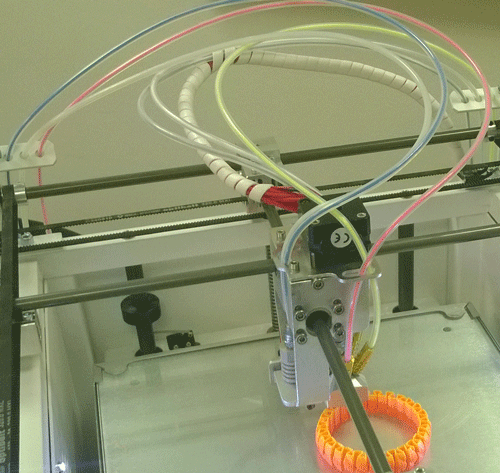 Tip in point ... Five colours all meet in a single head to output the thing on the glass platform
The support material is extruded through a separate print head, and dissolves in warm water in about 20 minutes – so there is a little finishing required once the model is printed, but it is straightforward. There is no need to trim anything with a scalpel.
The printer's firmware calculates the rate at which the different colours must be pushed to the print head in order to create the desired colour.
Duma claimed his printer rapidly switch between colours by purging the head either inside the shape – where the colour change will not be seen – or by dumping unwanted mixes at the edge of the build platform. All the demonstration pieces show gentle colour changes, however.
The ProDesk3D has a decent build volume of 275 x 275 x 300 mm and print speed of up to 175mm per sec.
One issue with printing in 3D is that the STL file format used by devices doesn't have a protocol for assigning colour. BotObjects counters this by using its own header information. A file created in its own application can be imported into other tools and manipulated there without disturbing the header, and then written back with the colour information intact.
Filament pricing is on a par with high-quality non-colour printer filament; a complete object costs pennies to produce, whereas small objects built by colour machines from Stratasys can cost tens or hundreds of pounds.
Like Stratasys, botObjects is looking at new materials with a view to producing objects using malleable and translucent materials.
The first laser printers cost about £10,000 and then the first colour laser printers a similar amount. The first colour 3D printers from Stratsys will cost you well over £100,000. The ProDesk3D is about twice the price of a similarly specced mono 3D printer which makes it something of a bargain.
We'd like to see some users popping up on the 3D-printer owner forums to independently verify that shipments have started, and provide some examples of rapid colour changes.
The ProDesk3D could be a game-changer in the evolution of the desktop 3D printer, if the device lives up to its promise. ®
Sponsored: Minds Mastering Machines - Call for papers now open