LG G3 fights off screen-res war rival Samsung with quad-HD cutie: In pictures
Dumb is the new clever ... or something like that
Stretchy keyboard, anyone?
LG was at pains to point out that it has some clever battery-saving functions to keep the 3,000mAh cell powering its quad HD display. You'd certainly want to experiment with the options, though, as the device ran a rigorous campaign of screen dimming and sleeping, such that viewing photos for more than a few seconds would need a prod to keep the dozy thing awake.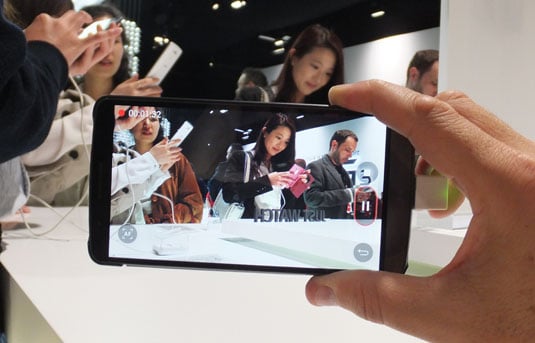 Quad HD display and UHD video capture will certainly challenge the battery life
On the stand the LG G3 was running Android KitKat 4.4.2 and the 32GB model has 3GB of RAM at its disposal; the 16GB version gets 2GB of RAM. Both rely on ARMv7-compatible Qualcomm Snapdragon 801 system-on-chips stated as being "up to 2.5GHz quad-core" processors. There may be some clock speed differences depending on the RAM and storage spec chosen.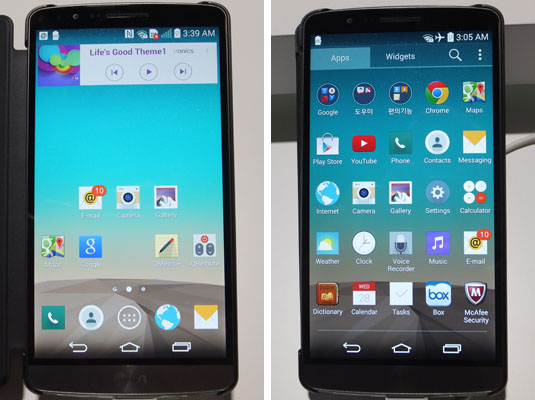 Home screen and apps aren't particularly striking
Although LG has done some work skinning Android – such as making things less candy-coloured and child-like by toning down the icons and assigning colours to different tasks – the actual home screen is a bit lacklustre.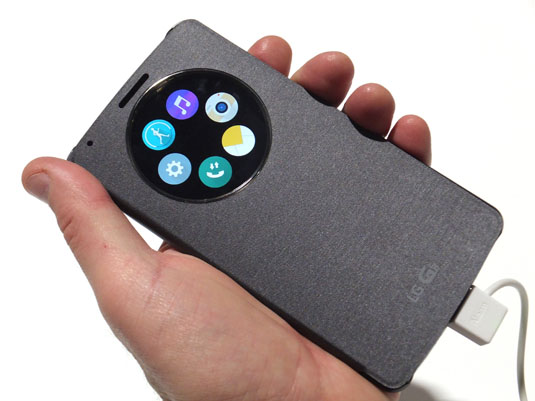 Ringing the changes
Where you really notice the difference is when the "Quick Circle" phone case is closed, and a simplified cluster of six icons appears in a see-through porthole from the touchscreen beneath: these can be easily thumbed, and I was able to access the clock, LG's health app, music player, camera, messaging and phone software.

Circular thinking – click for a larger image of the apps viewable from the Quick Circle porthole
Being a large screen, typing is one area LG has put some thought into with a straightforward enhancement that allows you to expand and shrink the keyboard to suit how you hold the handset.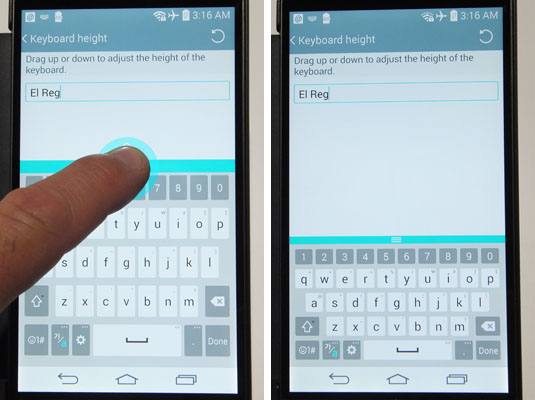 Stretch or shrink the keyboard size
The G3 is surprisingly light. While the curved back hides some of its bulk, it's not exactly super slim and somehow misses the mark aesthetically even though it is available with solid colour and metallic finishes. Oh, and if you think that's a stylus in the top corner, it's not: it's in fact a TV aerial for the South Korean market.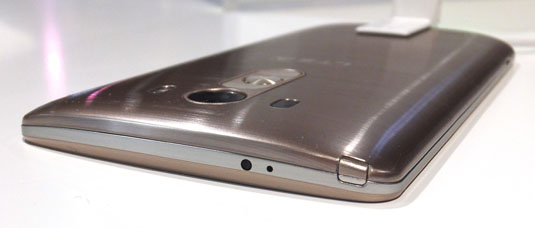 Nope, it's not a stylus, it's a telescopic TV aerial, but we probably won't be seeing that on the UK models
Throughout the event, LG chanted its new mantra for the G3: simple is the new smart – although there's no word on simple being the new cheap (or costly). Pricing isn't available yet, and the LG G3 is expected to go on sale in the UK in July. ®
Sponsored: Minds Mastering Machines - Call for papers now open