Come with me if you want a lid: Apple bags Terminator-esque LiquidMetal mobe patent
I swear I will not kill anyone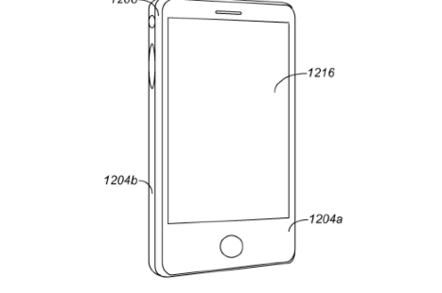 Apple has patented a method of embedding sapphire glass within a bezel made of the new, exciting-sounding (but rather dull) material LiquidMetal.
US Patent number 8,738,104 is titled "methods and systems for integrally trapping a glass insert in a metal bezel", and the design is at least six years old.
Since then, Apple has only really used LiquidMetal in a SIM card ejector, although it just extended its exclusivity deal with the firm behind the material – which reminds El Reg of the Terminator movies, famous for lines like "hasta la vista, baby" and "come with me if you want to live".
The patent – filed on July 11, 2008 and approved on Tuesday – relates to a tough bezel designed to absorb shocks. To boost the strength of the connection between an iThing's case and its glass screen, the patent uses metal in liquid form, which is injected into the gap between the glass and case. The metal then expands to "grab" the glass and keep it tightly attached to the case.
The patent said: "Instead of plastic, the material traditionally associated with injection molding, the patent uses metal in liquid form. Chief among alloy candidates is LiquidMetal, which behaves like a plastic and carries thermal properties advantageous to the MIM [metal injection molding] process. In some cases the thermal properties of select glass and metal materials can be matched to aid in production."
The patent also sidesteps troublesome tolerance issues.
"The formation of a bezel around a glass member substantially eliminates tolerance issues associated with the bezel and the glass member. Because the material (e.g., metal) used in the bezel is provided in liquid form around the glass member, there is effectively no tolerance that has to be maintained with respect to the bezel. The liquid flows around the edge of the glass member, and when solidified, effectively grabs and adheres to the glass member."
So could this mean that LiquidMetal finally gets used in something other than a SIM ejector? Only Apple can tell us that. ®
Sponsored: Minds Mastering Machines - Call for papers now open