SubPartners confirms plan for Perth-Sydney sub cable
Getting around Telstra, literally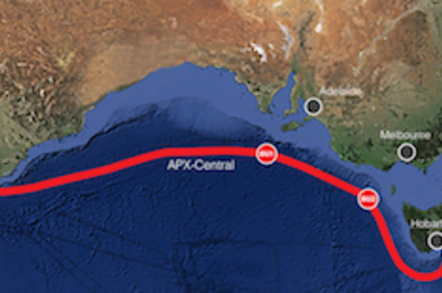 Australia is to get its fourth Perth-Sydney fibre connection, but it's got a twist: instead of thousands of kilometres of trenching, SubPartners is planning a submarine cable for the build.
Designed to connect to its planned APX-West Perth-Singapore cable, the APX-Central will skip around Western Australia's south-western peninsula and swing past Albany, then head east across the Great Australian Bight, south to round Tasmania (with a branch to Hobart), then head north to Sydney.
The company notes that branches to Adelaide and possibly Melbourne are options for the future, although co-founder Bevan Slattery last week told the Sydney Australasia Submarine Cable and Bandwidth Forum that SubPartners won't be offering interstate connections.
Since Sydney-Melbourne-Adelade-Perth are already served by Telstra, Optus and Nextgen, there's little margin to be had competing on those links.
Communications minister Malcolm Turnbull seems to think otherwise, saying in a press release from the company that APX-Central will be "providing a much-needed investment in the domestic interstate market".
The ATP-Central cable would match the 32 Tbps design capacity for SubPartners' other two links – Perth-Singapore and Sydney-America. Sydney-Perth latency will be around 10ms.
SubPartners is now working with TE SubCom on the new cable, concurrently with its existing Perth-Singapore build plans. ®
Sponsored: Minds Mastering Machines - Call for papers now open