NASA spots new Mars meteorite crater
Mars Reconnaissance Orbiter beams back best-ever space rock before and after shots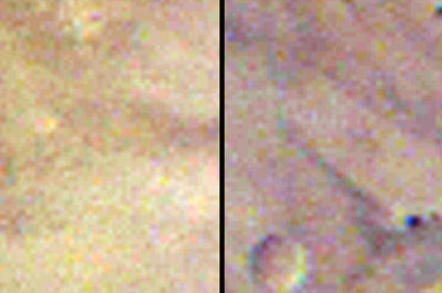 NASA has captured the best ever before and after shots depicting a meteorite strike.
The strike in question happened on Mars in March 2012 but was only spotted earlier this year. The long wait came because while the Mars Reconnaissance Orbiter beams back pictures of the Red Planet daily, not all are immediately examined.
Earlier this year, a scientist named Bruce Cantor was browsing some old imagines and noticed a dark spot he'd not seen before. He then reviewed old images of the same area and found that on March 27, 2012, there was no spot. But on the 28th a new dark, round area was to be found.
NASA has since used the Orbiter's various cameras to take a closer look at the dark spot and has concluded that something rather large made it through Mars' atmosphere and struck its surface. Closer examination even shows several smaller craters around the main dent, suggesting whatever hit Mars broke up into, or was accompanied by, several smaller objects.

Mars on March 27th, 2012 (L) and March 28th, 2012. Note new hole.
Image Credit: NASA/JPL-Caltech/MSSS
Other scans reveal landslides have occurred in nearby terrain, suggesting a shockwave or other disturbance.
The images have NASA folks excited because they're the best before and after shots humanity has ever captured of a cosmic collision, which should help us to understand them better. As learning is the reason we bother sending cameras to orbit other worlds, this is one welcome crash! ®
Sponsored: Minds Mastering Machines - Call for papers now open