Bondi shark alert systems beams warning to nobody on Google Plus
Who's a clever buoy? Not the folks targeting an audience smaller than MySpace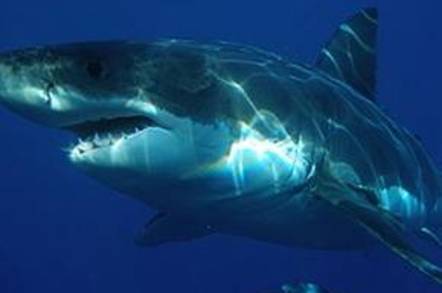 An Australian company called Shark Mitigation Systems has come up with something interesting: a sonar-equipped buoy that can spot sharks and then beam information about their presence to lifeguards over Optus' mobile telephony network.
The idea is that the buoys will be tethered off Australia beaches, for two purposes.
The first is to learn more about shark behaviour, which is undoubtedly worthy.
The second is to offer real-time information about lurking piscatorial predators to lifeguards and swimmers. To help those beyond the beach, the alerts will also be sent out over Google Plus.
Before we analyse this, let's acknowledge the nice integration job: building this rig would have required plenty of smarts. Let's also acknowledge that it's a fine idea to prevent any injury or death.
But let's not let this PR exercise – for this is at the core of the project – escape closer examination, not least because the project is solving the wrong problem. As we've previously noted, an Australian "... has a 1 in 3,362 chance of drowning at the beach and a 1 in 292,525 chance of being killed by a shark in one's entire lifetime."
Australians are understandably paranoid about sharks. But technology to help prevent drowning would save more lives.
Secondly, Google Plus has a small active population in Australia. The Yellow Pages Social Media Report (PDF) suggests only 15 per cent of social media users are on the network, fewer in the beachgoing demographic of 14-29 year olds. The report has Facebook in the high 90 per cents. Socialmedianews.com.au estimates that Facebook has 13.2m users in Australia. Twitter has 2.5m and even MySpace still has 180,000. Google Plus can muster just 65,000.
Choosing Google Plus makes it hard to see this project as purely a public safety exercise. From Vulture South's eyrie it looks hard not to to see it as a more cynical effort to get people to pay attention to Google Plus and feel nice about Optus. ®
Sponsored: Minds Mastering Machines - Call for papers now open