How do I escape this damned email blacklist?
Help your fellow Reg reader with your recommendations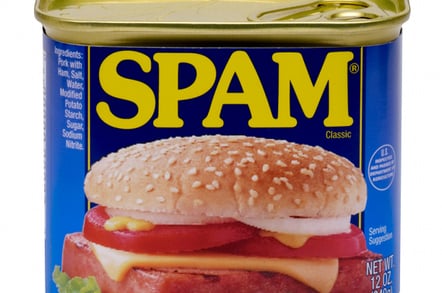 Readers' corner Commentard m0rt writes in El Reg Forums:
Someone who has a mailing account with one of my domains, which in turn is hosted on a mate's server, had his email password lifted from his XP laptop and subsequently that account was used to send out a near a million spam messages. Or attempted to, I caught it with 847k still to go. So one clean up later, and blacklist maintainer grovelling notwithstanding, I have been getting the IP address, which also holds a few other domains I hasten to add, off the blacklists. I attempted to reply to my wife, who uses hotmail, and get a message back stating that the ip was blocked.
This I understand. It is, ultimately my responsibility. So I contact Live.com via their recommended route. I get an email stating they will investigate upon my reply. So I give them the run down on what happened and what I have done since etc.
I get an email back which basically states:
"We have reviewed your IP(s) (8.8.8.8*) and determined that messages are being filtered (i.e. sent to the Junk folder) based on the recommendations of the SmartScreen® Filter.

Email filtering is based on many factors, but primarily it's due to mail content and recipient interaction with that mail. Because of the proprietary nature of SmartScreen® and because SmartScreen® Filter technology is always adapting and learning more about what is and isn't unwanted mail, it is not possible for us to offer specific advice about improving your mail content.

However, in general SmartScreen® Filter evaluates specific words or characteristics from each e-mail message and weights them, based on their likelihood to indicate that a message is unwanted or legitimate mail. Unfortunately, after reviewing the information you provided and in compliance with our mail policies, we are unable to offer immediate mitigation for your deliverability issue. However, we have some specific recommendations for you to consider that can help you to improve deliverability over time. "
Now, this is reads a little false. First off, the message clearly states: "Connected to 8.8.4.4* but sender was rejected. Remote host said: 550 OU-002 (COL0-MC4-F5) Unfortunately, messages from 8.8.8.8* weren't sent. Please contact your Internet service provider since part of their network is on our block list."
So this pretty much indicates that there *is* a list and it isn't the content of the email, which was pretty much what the Live.com rep was stating. lLso, prior to this, the original email in response to my raised request stated:
"Our investigation has determined these IP(s) are being blocked based on the recommendations of Symantec's BrightMail filter.

We will be happy to work directly with Symantec on your behalf to investigate and possibly resolve this problem. Symantec will re-evaluate your IP and remove the block if appropriate."
Which kind of shows up the other email to be a little disingenuous.
I *know* that the internet is a very big place and my piddling little problem is just that, and that spammers are the scum of the earth, however, I can't email my wife. Or reply to my wife. (On this address). My friend, who kindly let me host my domain on his server, has all his domains treated similarly as the domain is shoved somewhere in Microsoft's hit list. If it was similar to Bing, I wouldn't care. But because Hotmail have a fair whack of all mailboxes, it is kind of a big deal.
PS - If anyone has experience of creating qmail mail send rate triggers, I would be grateful if you could contact me.
Readers, any suggestions? Your thread awaits. ®
Sponsored: Minds Mastering Machines - Call for papers now open