Privacy at the Donmar Warehouse: All your data are belong to THEM
It's scrappy, but take your teenage kids - and leave your phone on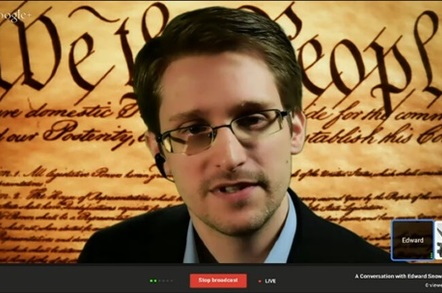 Theatre review Josie Rourke, mummer-in-chief at the Donmar Warehouse theatre in London, was halfway through researching a new play on how "smartphones and the internet are changing the ways in which we live", when the Guardian and its partners began publishing the Edward Snowden files. This timely interruption gave Rourke new impetus and material.
The result is Privacy, a new work with Rourke as director which is set to play in the decidedly unwarehouse-y environs of the Donmar until 31 May.
Data isn't the only thing that's meta in Privacy. The plot sees The Director (Michelle Terry) challenge The Writer (Joshua McGuire) to embrace the web in all its invasive, pushy, spammy, disappointing, nude-selfie-taking glory - in order to write a play about his experiences. The Writer grudgingly agrees, and sells his soul to Mark Zuckerberg and Co. for a Facebook account and some keyword-matched advertising.
While corporates and governments start to mine his data, The Writer slopes off to interview the first of many real life experts, Josh Cohen, the psychoanalyst responsible for the book The Private Life: Why We Remain in the Dark.
Once at Cohen's mind surgery, The Writer jumps onto the therapist's couch and the audience jumps into his mind, which is full of politicians, hacks, mathematical wonks, civil servants, techno-bods, and shysters. These figures/figments walk up and down arguing the merits of sharing personal information with large corporates (spoiler: there aren't any), and giving intelligence agencies uncontrolled access to all the metadata they can eat.
All of these characters are, like Cohen, real-life people with some skin in the great privacy-defending/eroding-game of the 21st century, and everything they say is taken from interviews conducted by the writer of the play, acclaimed young Grub-streeter James Graham, or from the public record. For example, William Hague walks on at least twice to deliver his favourite and not-at-all-chilling chat-up line, "If you have nothing to hide, you've nothing to fear."
In the second half of the play we hear testimony from the gaggle of Grauniad writers who were lucky enough to have the story of the decade dumped in their laps by Snowden (Glenn Greenwald doesn't feature and is only mentioned once – make of that what you will). While the Guardianistas goggle at their good fortune, The Writer meets with a lawyer who advises him not to go to the United States to view Snowden's treasure trove for himself ("Don't look. And if you do look, don't look.").
Of course, he does go and look, and returns home in time for a disastrous Tinder hookup with a woman who turns the tables on him with a file of information gleaned from — where else? — the internet. Realising his decision to "connect" has let the genie of his privacy well and truly out of the bottle of his life, he sinks to his knees…aaaand cut.
Privacy spends a decent chunk of its running time educating its audience on everything from what a Facebook "Like" is, to how Amazon's recommendations engine works, to what exactly can be discerned from metadata (spoiler no.2: a lot) – but not enough to say for sure whether Romeo and Juliet were star-crossed lovers or terrorists with a backfiring chemical weapon. It's an education that Reg readers are unlikely to need (or want), but one that might now be considered essential for children, teenagers, and non-tech-savvy parents.
Privacy should be toured around every school in the country, starting tomorrow, not sitting in the Donmar, where most of the audience is old enough to realise that the existence of Facebook and Twitter means that discretion is the better part of valour.
Rourke and Graham use talking heads to create a balanced debate about privacy and this is reflected in what a horrible marketing person like me would call their "key takeaway" - each new generation needs to "re-contract" with the balance behind privacy and civil liberties. However, this balancing act weakens the play, which makes no persuasive thrusts – instead creating a confused tapestry of impressions in the mind of the viewer.
With its use of audience participation, (novel) insistence that watchers keep their mobile phones switched on, partially borrowed script and threadbare plot, Privacy is more of a show than a play. But it's a decent show. ®
Colin Myer: Two-parts Shakespeare nerd to one-part tech enthusiast. Works at Diffusion PR and dreams of making it back into the university library someday. Yes, I've seen Breaking Bad.
Sponsored: Minds Mastering Machines - Call for papers now open