Intel cutting prices, taking on all comers in fondleslab market grab
Even Chinese 'white box' tablet-makers are welcome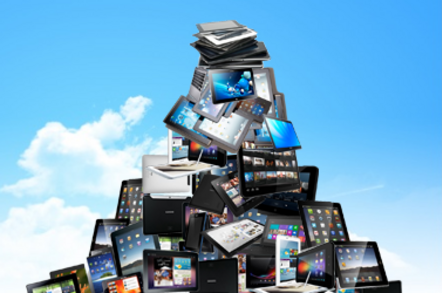 Intel is so desperate to gain a foothold in the fondleslab market that it's willing to slash its margins in exchange for market share, supply-chain sources claim.
Industry insiders have told Taiwanese tech-news rag DigiTimes that Chipzilla has been cutting prices and offering marketing subsidies to tablet vendors willing to build designs with its processors.
The main targets of these efforts have been Chinese white-box vendors, at least 20 of which are reportedly already building tablets based on Intel processors and system-on-chip (SoC) components.
To reach buyers in the notoriously stingy price-sensitive Chinese market, however, those slabs will need to arrive at rock-bottom prices, especially given the glut of cheapo ARM-based tablets already available.
IDC research shows fondleslab sales cooled a bit in the most recent quarter, but the world's vendors still shipped a combined 50.4 million units in the three months ending in March, the vast majority of which were based on some flavor of ARM chips.
Nearly two-thirds of them also run Android, the major exception being Apple's market-leading iPad line. And that may be a problem for Intel, because recent tests suggest you might be better off sticking with an ARM-based device if Google's mobile OS is your thing.
Enter Microsoft. The "Wintel" partnership may not be as strong as it was in previous decades, with each company courting other partners as their respective interests diverge. But when it comes to tablets, Intel and Redmond are in pretty much the same boat.
According to recent figures from Canalys, Windows tablets accounted for less than 5 per cent of the market in the fourth quarter of 2013. Worse, of the Windows slabs that did sell over the holiday buying season, more than half were made by Microsoft itself.
Microsoft needs new tablet partners just as badly as Intel does, which explains why it, too, has been going all-out to slash its prices for hardware OEMs – even going as far as to offer a new version of Windows that will cost nothing for makers of slabs with screens smaller than nine inches.
Intel has backed its own price cuts with other efforts to woo Chinese manufacturers, as well. It recently launched an "innovation center" in Shenzhen, and also launched a $100m fund aimed at helping local kit-makers develop Intel-powered devices.
Taiwanese supply-chain vendors say Chipzilla's goal is to reach total shipments of 40 million Intel-based tablets in 2014, and that with a total of around 30 vendors on board, it ought to be able to hit that number.
Shipments don't equal sales, however. And considering that the target market is China – ground zero for what Apple CEO Tim Cook calls the "junk part of the market" – Microsoft and Intel may find that even driving the prices of Windows tablets below $200 may not be enough to overtake the iOS and Android juggernauts. ®
Sponsored: Minds Mastering Machines - Call for papers now open