Open wide, 'Friends': Facebook wants to give you a 'Privacy checkup'
Shock tactic for current users and kinder settings for n00bs on the way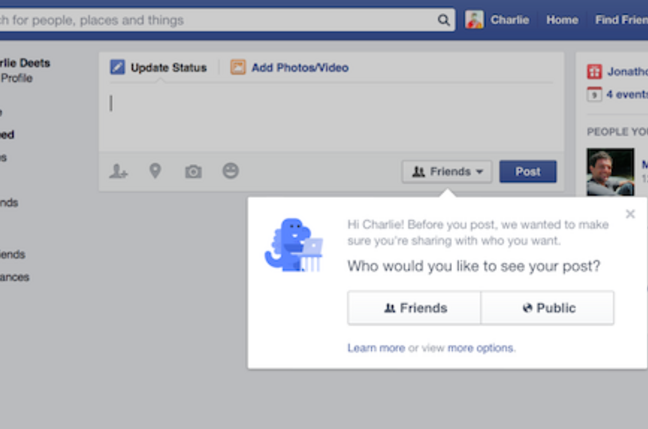 Facebook has taken the highly unusual step of changing its privacy settings to make them easier to understand and alter.
Current users will, in coming weeks, be offered what The Social NetworkTM is calling "a new and expanded privacy checkup tool" that will "take people through a few steps to review things like who they're posting to, which apps they use, and the privacy of key pieces of information on their profile."
Other enhancements to the company's apps will make it easier to determine the audience to which audiences post. A "public posting reminder" that offers "a quick reminder to people posting publicly to make sure they are sharing with the audience they want" is also on the way.
N00b taking their first steps onto Facebook will also benefit. Recruits were previously fed privacy settings that shared everything they do with a "Public" audience, which means all billion-plus entities on Facebook could see their updates.
Some members obviously didn't enjoy that level of exposure, as The Social NetworkTM has changed its default privacy settings so that new members' emissions are only shared with their Friends.
"We recognize that it is much worse for someone to accidentally share with everyone when they actually meant to share just with friends, compared with the reverse," say the Zuck Squad.
"So, going forward, when new people join Facebook, the default audience of their first post will be set to Friends. Previously, for most people, it was set to Public," the post continues. "First time posters will also see a reminder to choose an audience for their first post, and if they don't make a choice, it will be set to Friends."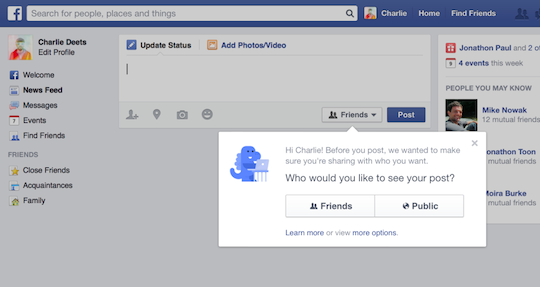 Welcome to Facebook. Please choose between comprehensive or moderate invasions of privacy
It looks like user discomfort is behind the changes, as the post announcing them says "For people already on Facebook, we've also received the feedback that they are sometimes worried about sharing something by accident, or sharing with the wrong audience."
Of course none of this stops Facebook itself rummaging through whatever data you choose to deposit in its loving embrace. But at least it means users will get a little more control over how and when their emanations are observed by third parties. ®
Sponsored: RAID: End of an era?