Spotify boasts 10 million paying subscribers ... Um, is that all?
And yes, that's worldwide *gun-in-mouth finger gesture*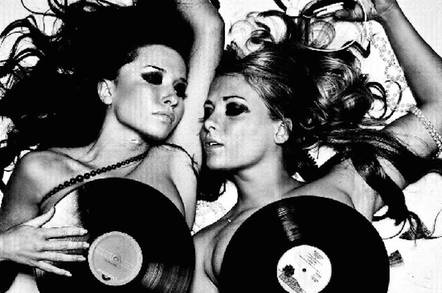 Spotify says it now has 10 million paying subscribers and 40 million active users. The last official user numbers were released in March last year, when it said it had five million active users.
Spotify now operates in 56 countries around the world, up from 20 a year ago, CEO Daniel Ek said. The privately held company, whose biggest shareholders are the three major record labels, lost €434.7m in 2012, which is the most recent official figure available. It's safe to assume that burn rate will have widened by now.
Major labels hope Spotify and the myriad me-too tenner-a-month streaming services will convert a significant proportion of the population into utility music subscribers. But the economics of digital streaming has been challenged – very articulately – by musicians including David Byrne, David Lowery and Thom Yorke.
Their criticism is basically twofold: the music is undervalued, compared to downloads, and the amount of reward going to songwriters – the actual authors of the work being enjoyed – is a tiny fraction of what it should be, or was with discrete one-time purchases.
Playing to a million listeners in the old days could earn a performer a modest amount of money. A tangible sum. Yet a million plays on streaming service Pandora yields less than a T-shirt sale. Writing in The Guardian, David Byrne expressed anxiety that the economics may never add up. (Lowery has some numbers here.)
Byrne also challenged Spotify's claim that its service encourages people to try before they buy, thus yield revenue through music discovery:
Why would you click and go elsewhere and pay when the free version is sitting right in front of you? Am I crazy?

There's no reason artists should simply accept the terms and join up with whatever new technology comes along.
One way of thinking about it is that Spotify is both too expensive and too cheap at the same time. Some 44 per cent of people in the UK have never purchased music – they "consumed" all the music they wanted for free, and "paid" via licensing or radio adverts.
A smaller but significant number bought music, and a subset of this group paid quite a lot: the famous "fifty quid a week bloke" who happily started their weekends spending half a ton on CDs, DVDs, etc.
The paying group is now super-served by Spotify, which works out to be a remarkably good deal for them. But for the 44 per cent who didn't buy recorded music, a tenner for a Premium subscription, or perhaps even a fiver for the Unlimited package, is too much.
In January, Spotify tore the time limits off its advert-supported free subscription, thus making the service more enticing to those who don't want to pay for songs – but it did nothing to monetise the £50 blokes who once spent a lot on recorded music.
There's no offer to buy exclusive tracks for premium subscribers, for example. There's just no upselling at all. ®
Sponsored: Minds Mastering Machines - Call for papers now open