Amazon Prime hot air drone service goes a-recruiting
Wanted: Software bod and highly creative PR mounthpiece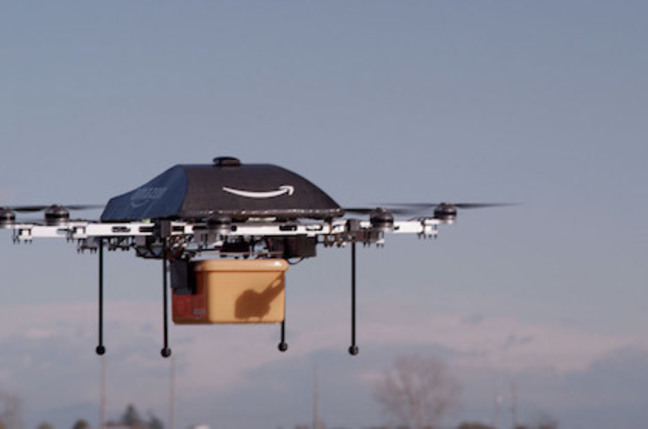 Video Online retail monolith Amazon is recruiting for Prime Air - the much-hyped future delivery paradigm whose modest aim is to "get packages into customers' hands in 30 minutes or less using unmanned aerial vehicles".
Jobs up for grabs include a software development engineer who'll need "superb technical, research and analytical capabilities with a demonstrated ability to get complex hardware, software, embedded, mobile and mission-critical systems up and running quickly and effectively".
More significantly, however, Prime Air needs a communications manager to sell the masterplan to a sceptical world.
The core job responsibilities include the ability to "identify big opportunities to broaden awareness of Amazon's unmanned aerial vehicle delivery system", that's to say, create newsgasms for a likely unworkable project.
Here's the killer, though. Candidates should preferably be "comfortable with dealing with ambiguity and able to form a cohesive and effective outcome from potentially incongruous facts (or lack thereof) and individual perspectives".
We're not exactly sure what this whalesong-driven drivel means, but assume it can be summarised as "get positive press coverage no matter what".
Amazon admits that getting Prime Air up and running "will take some number of years as we advance the technology and wait for the necessary FAA rules and regulations".
Sadly, it's probably true that even if the service does one day take to the skies, the plucky drones will have to run the gauntlet of anti-aircraft fire and electronic countermeasures.
The thought of Amazon employees standing on the tarmac counting their UAVs back in, fretfully scanning the horizon in the vain hope that yet another aircraft hasn't bought it over enemy territory is melancholy indeed. ®
Sponsored: RAID: End of an era?