It's musical chairs at ISE bricks house as X-IO looks to 'post-nerd' future
New CEO and ex-CEO becomes chairman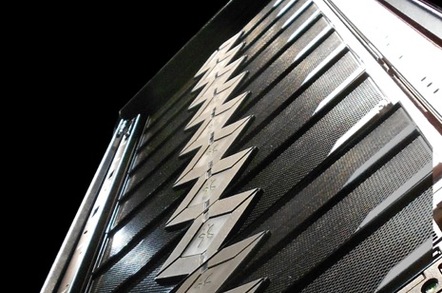 X-IO, the perennially not-quite-making-it supplier of fantastically reliable HyperISE storage enclosures, has promoted its CEO to chairman, and appointed its vice chairman as the new CEO, in a move away from being a "nerdy storage supplier" towards a more profitable future.
CEO John Beletic came on the scene in late 2011 and has now stepped upstairs away from operational control, following in the footsteps of his predecessor Alan Atkinson.
Beletic appears to have updated his job title on social biz network LinkedIn although the X-IO exec listing still has him as CEO.
Brian Owen is the new CEO, moving from his position as vice chairman of the board, which he joined in January this year.
His background includes a stint as president and CEO at MapInfo, VP stints at Oracle and CA before then, and some time at Digital Equipment Corp back in the 1985-1987 period.
Owen says he wants to change X-IO from being a "nerdy" storage-focused company to a solutions-oriented company centred on virtualised data centres. In conjunction with David Gustavsson – who was VP of engineering but is now promoted to COO – he said he sees virtualised data centres disaggregating the SAN with upper-level SAN functions going to the hypervisor.
X-IO's ISE and HyperISE sealed and five-year warrantied storage enclosures are a good fit with virtual servers and VDI workloads. The Vulture thinks Server SANs will feature strongly on Owen and Gustavsson's strategic radar screen.

X-IO HyperISE
Gustavsson now runs products inside X-IO. Gavin McLaughlin gets promoted from being the EMEA solutions architect to VP for corporate marketing, still based in Europe. HR director Molly Johnston is in a transition role, with Owen working with an external HR consultant to effect a realignment in overall people skills towards a solution-selling organisation.
Owen says the current X-IO CFO, Ed Welch, will be staying on through a transition. A number of fellows and senior engineers have also been let go or are now part-time as Owen transitions the company in conjunction with Gustavsson.
X-IO grew last quarter and the new CEO must be looking for a way to unlock the value he thinks is hidden inside X-IO and get it growing much faster. ®
Sponsored: Minds Mastering Machines - Call for papers now open