Big data? Internet of things? Sport of Kings inches into high tech
Britain got used to a woman leader quicker than horse racing picked up on IT
Wi-Fi in the running
Horse racing in Britain adopted photo finishes for the flat racing season of 1947 after an investigation by the Jockey Club. The Race Finish Recording Company, set up to provide the finish-line cameras, is now known as RaceTech, and its cameras are now digital, generating an image based on single-pixel vertical lines of the racing post over a few seconds. This allows a comparison of runners at the exact point at which they complete the race, available to stewards seconds after the race is over.
The firm also helps protect the purity of the turf. Courses now have at least five video cameras recording races, "viewed by stewards to ensure there is no, shall we say, funny business," says Christodoulou, now director of engineering and technical operations for RaceTech.
When possible, these provide a head-on view, as it is usually easier to spot forbidden behaviour such as a jockey cutting across another's line – although telephoto foreshortening can make horses look closer than they are. For this reason, side cameras are also useful. "Stewards are calling for more and more," says Christodoulou.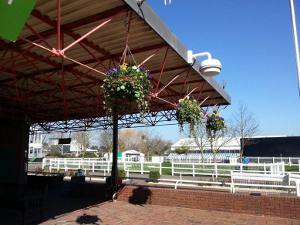 Spot the wireless access point, at
Cheltenham Racecourse. Photo by: The Jockey Club
But the company's newest system moves away from cameras, tracking horses' every hoof through a local positioning system. This works in a similar way to GPS, but uses a transponder on each horse and receivers around the course rather than signals from satellites.
It places horses in three dimensions – running uphill, unsurprisingly, affects how fast a horse runs. RaceTech has tested the system at Kempton Park racecourse with 16 receivers, plus two extra finish-line cameras around the course to cross-check the positioning system's accuracy. "It's been pretty spot on to a few-thousandths of a second," says Christodoulou.
He said he sees numerous uses for the system. It can already provide sectional times for each horse for every furlong and a live on-the-track ranking, as seen in other sports such as Formula One. It could be used to provide more material for stewards and enable new types of bets – fastest horse at start, "winner" of a given furlong – and interactive computer games.
"You could put yourself there in the race, in a virtual world," says Christodoulou, conjuring images of a Grand National ride for everyone, "but it relies on the data." That data could also be used to let gamers play at being fantasy trainers – but could also be used by real trainers, jockeys and owners to review a horse's performance.
David Dommett, group IT director for the Jockey Club – which runs 15 racecourses, including Kempton Park, Cheltenham and Aintree – wants to use such systems to make racing a better day out. "When you're on a course watching a horse race, you can't necessarily see all the action," he says, and a tracking system could help spectators follow a race by overlaying data on camera images. He also sees other potential for tagged horses, such as letting people view data through their smartphone when they point it at their fancied runner.
But this requires good mobile access to data – and networks around racecourses tend to get hopelessly overloaded on big race days. "It gets to 11 o'clock on the day of the Grand National, and you can't communicate with anybody," says Dommett.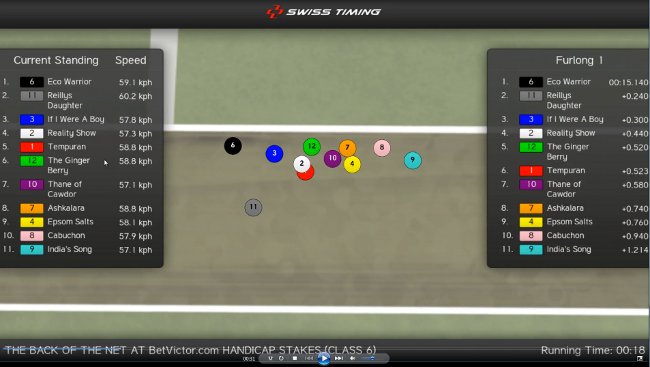 Tracking of horses during races with RaceTech could mean extra services for punters
So for this year's Cheltenham Festival, the Jockey Club established a permanent 2Gbit wireless network, with 189 access points, 13,500 metres of cabling and 7,650 metres of fibre, supplied by Xirrus and managed by Aircom. The idea was to allow tens of thousands of spectators to get online. Altogether 35,000 did just that, making a total of 886,000 visits to partners' websites, with the platform recording 5.5 million events.
"One of the challenges in a racecourse is that consumers don't stand in one place," Dommett points out, saying that perhaps 20,000 moved from one part of the course to another while watching a race. He carried out his own test: "I managed to walk from one end of the grandstand to the other streaming BBC iPlayer, and there were 15,000 people at the time."
The Jockey Club is now looking at how to set up similar networks at other courses.
This could allow racecourse spectators to bet through their smartphones, which Dommett sees as a welcome additional option. But he thinks many will want to stick with traditional methods: "There's a historical and cultural thing about going to the rail with your five quid," he says.
Racing is finding ways to make better use of technology, but it's mainly about people and – as jockeys love to say in post-race interviews with Clare Balding and her colleagues – the horse. ®
* As the name suggests, horses racing on the flats rather than with jumps. The season runs in the summer, from "the day the Lincoln Handicap is programmed until the afternoon the November Handicap is programmed" – usually from late March until early November.
Sponsored: Minds Mastering Machines - Call for papers now open