PEAK ARRAY: Cold fingers of Death stroke Big Biz disk boxes
CIOs and CTOs mull cloud and hybrid caches as trad gear sales slip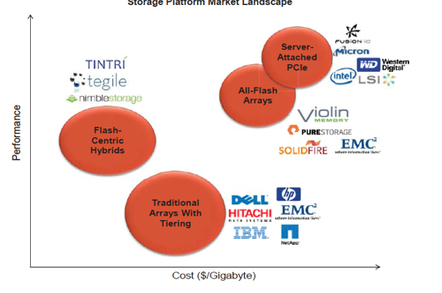 Comment IT depts are spending less on enterprise storage arrays, and instead considering shifting to the cloud – and away from arrays in their data centres.
Or so we're told. These two changes were pointed out by Aaron Rakers, managing director of equity research outfit Stifel Nicolaus. He's plotted the combined EMC, Hitachi, and IBM storage financial results over time, and his chart shows plummeting revenue growth since 2010: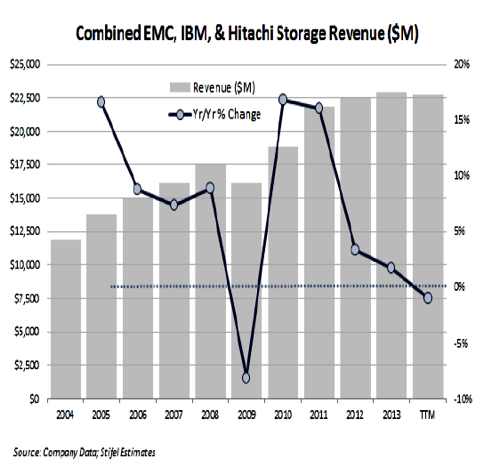 Stifel also polled tech chiefs at businesses that have a need for enterprise storage, and found that:
60 per cent of respondents thought 2014 storage spending would be greater than that in 2013.
53 per cent of surveyed CIOs and CTOs view cloud computing as the most disruptive tech to their data centre, followed by software-defined storage and converged compute-storage (32 per cent), and flash storage (15 per cent).
Nearly 60 per cent of surveyed CIOs and CTOs view EMC as the best positioned company to capitalise on the data centre transition and trends taking place in the enterprise storage market, while 19 per cent of respondents view NetApp as the best positioned
59 per cent expect to evaluate a software-defined storage solution in the next 12 to 18 months; 60 per cent view server SAN software as the most attractive.
Rakers concluded:
We believe traditional approaches to networked storage appear to be increasingly misaligned with the performance requirements of virtualised server environments. We would view late-2014/2015 as potentially representing a pivotal period in how we/investors view the storage landscape over the next 3 to 5+ years.

We believe server-side SAN or hyper-convergence represents potentially the most distributive architectural approach to software-defined storage as this approach is highlighted as being the closest comparison to Google, Facebook, and Amazon.
Rakers has an "expectation of a two-quarter pause in storage spending; EMC and NetApp have consistently highlighted a belief that enterprise decision cycles have lengthened".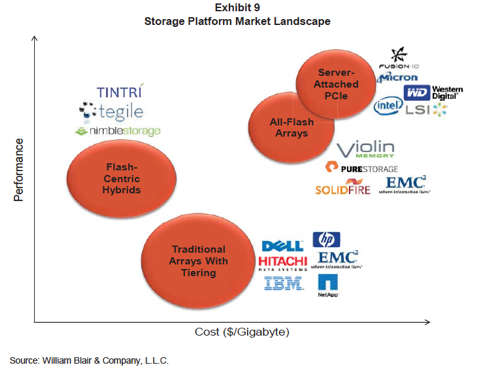 The William Blair view of storage landscape, May 2013
Jason Ader, a William Blair analyst, issued a State of Storage 2014 update on May 13, which said:
We continue to believe that structural headwinds are just as responsible for weak storage spending as are cyclical issues; recent incumbent vendor layoffs are indicative of these pressures.
We expect the current industry transition to be protracted and unyielding, favouring best-of-breed solutions.
Biggest near-term impact from cloud and flash; SDS [Software-defined Storage] is key long-term threat.
We expect that the SDS trend will have a substantial deflationary impact on the systems market.
We estimate that combined sales of newer vendors have taken a roughly $2bn bite out of potential storage sales from incumbent vendors in 2013, out of total estimated external storage system sales of $26.8bn in 2013 (IDC). And we estimate a 2014 combined growth rate of around 40 per cent, which raises competitive pressures on the incumbent vendors.
We estimate a 2014 combined [newer vendor] growth rate of around 40 per cent, which raises competitive pressures on the incumbent vendors.
The newer vendors are identified as Coraid, DataDirect Networks, Fusion-io, Nexenta, Nimble, Nimbus, Nutanix, Pure Storage, SolidFire, Tegile, Tintri, and Violin.
So ... enterprise storage array buyers are buying fewer traditional arrays because they are substituting hybrid and all-flash flash arrays for performance and cost-efficiency, and looking to the cloud and software-defined storage for simplicity and continued cost efficiency. Do you believe it?
Ader and Rakers are both chasing investor eyeballs, and incumbent vendors and storage-using CIOs may judge their views are coloured by that. Incumbent storage vendors may well decry these and similar analyst views because they want to preserve their incumbency.
The storage technology and business world is changing faster than ever, and sorting out the valuable wheat of news from the storage marketing chaff is getting harder and harder. ®
Sponsored: Learn how to transform your data into a strategic asset for your business by using the cloud to accelerate innovation with NetApp