Apple 'rainbow' logos set to fetch $10-15K at auction
Signage sale proves fanbois really will pay for anything Apple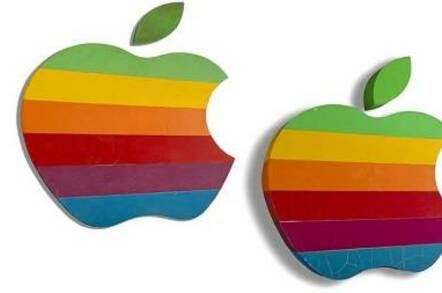 A pair of logos taken from Apple's Cupertino headquarters are slated to fetch big bucks on the auction block.
Auction house Bonhams is planning to offer two pieces of signage sporting the company's iconic rainbow-colored logo as part its upcoming auction series "The Story of the 20th Century." The auction is set to take place in New York on June 4th.
The signs, one made from hardened foam and the other fiberglass, are being offered as a pair with an expected selling price of $10,000-15,000 (£5,900 – 8,900). They were once displayed at the company's Cupertino headquarters and are being sold by an Apple employee who obtained them in 1997, after the firm abandoned the Rainbow logo pattern for the current one-color Apple logo.
According to Bonhams, the two logos were displayed at Apple's home campus in Cupertino. The larger of the two signs, a fiberglass display measuring 46x49x1.5-inch, was once bolted to the outside of Apple's Building 3 on the North end of the building, making the sign visible to Bay Area commuters traveling along Highway 280.
The location of the second logo, a 33.5x36x6-inch foam model was not given, though the listing notes that the sign shows cracks in its vinyl coloring and signs of outdoor wear.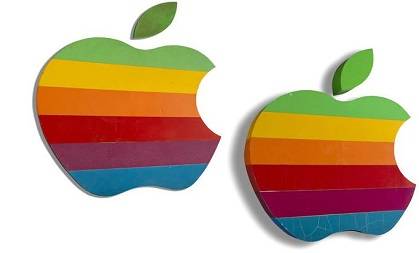 Apple signage for auction by Bonhams
The signs harken back to an earlier, though not necessarily happier and certainly not more prosperous, time in Apple's history when the firm was still first and foremost a personal computer vendor. The rainbow logo was designed by artist Rob Janoff and championed by co-founder Steve Jobs to become one of the most recognizable brands in the world.
When Jobs returned to Apple, following more than a decade in exile, redesign of Apple's logo was among the many overhauls made to a company that had been struggling after years of mismanagement and was teetering on the brink of bankruptcy.
Still, the rainbow logo remains near and dear to the hearts of many an Apple fan, as reflected by the price Bonhams expects the two signs to draw. Should they sell at even the low end of the estimate, the two pieces of signage will prove more valuable than, among other things, a surface-to-air missile engine.
For those who aren't lucky enough to pay five figures to obtain two pieces of signage, other lots slated to be auctioned off in the sale include a signed photo of Queen Elizabeth, Commander Jim Lovell's Apollo 13 mission patch and a food tray recovered from the Hindenburg. ®
Sponsored: Minds Mastering Machines - Call for papers now open