Speccing out a NAS-based home media rig. What do you suggest?
Your fellow Reg reader seeks your advice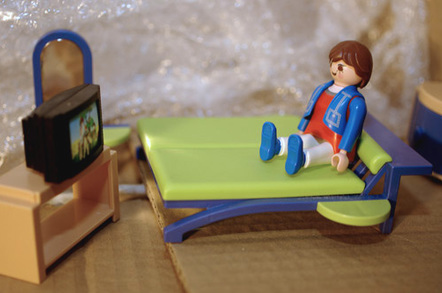 Readers' corner And in El Reg forums, commentard Le Adder Noir is looking for a bit of a steer on a project for a new house. He writes:
I'm looking to build a NAS-based home media set-up. I live outside the UK, where TV media is, dare I say it, even worse than in Blighty, so most of our stuff is purchased online and stored on drives. Up until recently, I've been using my PC as a media hub in the lounge (using a mixture of internal and external drives), hooked directly to the receiver/amp and TV.
Now, it looks like I'm going to have a proper office, so I want to move the PC there, and use a NAS to store media that is accessible in the office, lounge and bedrooms. It's how I go about this that is causing me some difficulty.
In terms of the NAS unit itself, I'll probably go for an off-the-shelf unit, if only because getting parts where I am can be tricky and expensive. I'm thinking of Synology or QNAP.
The intention is to have fully wired broadband connectivity throughout the house, or at least fairly decent Wi-Fi.
The questions I have then are:
How to I get stuff from the NAS to the TV(s)?
Do I need separate media players for each TV and, if so, which ones would work best (files are a mixture of the usual, MP3, FLAC, MP4, MKV, AVI etc. and I'd prefer not to lose quality for HD files through transcoding or the like)?
Will I be able to stream either different content or, more importantly, the same content to different devices simultaneously (sort of like the set-up on an aircraft entertainment system) and do I need some sort of programme for this?
How can I ensure my NAS is secure - i.e. read/write only from PC, read-only from certain devices, no access externally?
Readers, you can get steering via this thread. ®
Sponsored: Minds Mastering Machines - Call for papers now open