Who's going to look after the computers that look after our parents?
Welcome to the internet of old
things

people....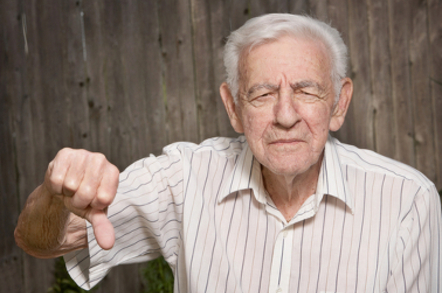 How do you see aging? Is it a second childhood in the Golden Girls/Last of the Summer Wine mould? Or do you imagine it more like Logan's Run, with the years being ticked down in silicon before you're permanently retired?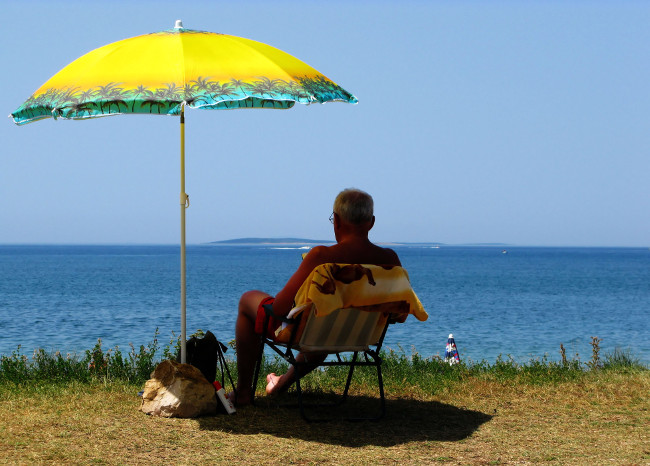 When I'm 65: Who will drive me to the beach?
If some of the biggest tech vendors have their way, it'll be somewhere in between, with our golden years spent nostalgically noodling around on tablets, telling wellness apps how we feel, while our movements, activities and vital statistics are remorselessly hoovered up into the cloud.
Because even if your organs are no longer worth harvesting, your data always will be.
However you think old age is going to pan out, you won't be alone, at least not statistically. Latest figures from the Office of National Statistics (PDF) show that 16 per cent of the UK population is over the age of 65. The average across Europe is 18 per cent, and in Germany the proportion is 21 per cent.
In 1981, average life expectancy after retirement age was 14 years for men and just over 22 for women. By 2031, it will have shot up to just under 23 years for men, and will be around 25 for women.
A critical factor here is how healthy those years are - UK men could expect 9.9 years of life in relative good health if they turned 65 in 2008, while women could expect 11.5, meaning over half of their retirement was, well, unhealthy.
A final figure: Children born in 2013 will have a average life expectancy of 90 years if they are male, 94 if they are female, with one in three likely to hit their century. Frailty is an immediate issue here. Oh, and at current rates, the number of dementia sufferers in the UK is expected to hit one million by 2021.
Who - or what - is going to put on your Inspector Morse DVD?
So, if you've got baby boomer parents they're being lined up to look after your grandparents. And in short order, you'll be looking after your parents. And of course, that baby boomer bulge and a plummeting birth rate means, well, who exactly will be looking after you?
As a techie, you're already thinking well there must be something that can be done with bits and silicon to leverage those of us still with our own teeth and hair, before society collapses under a mass of zimmers, Saga brochures and Inspector Morse DVDs.
Perhaps, but no one's done it quite yet.
We spoke to Chris Poole, operations director of century-old charity Friends of the Elderly. At least we did once we'd negotiated the sort of punishing flight of stairs that forces you to consider just how many years your knees are going to hold out and how much of our infrastructure is geared towards the young and able-bodied.
The 105-year-old organisation, which grew out of efforts to help the needy in general, operates care homes and day centres for the elderly as well as carrying out advocacy work on behalf of older people.
The charity has had plenty of time to observe the leaps and bounds in the way technology has been harnessed to help older people. Except, as Poole puts it, the vast majority of the "technology" underlying care of the elderly today would be pretty instantly recognisable to anyone who hadn't seen the inside of a care home or day centre since the late 1980s.
The one very modern exception Poole points to is GPS, with devices already being used to safeguard dementia sufferers. As well as giving families of walkabout relatives some comfort, it means a massive reduction in calls to the police.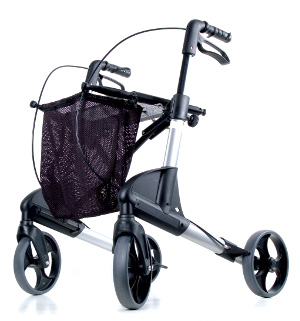 My pressure sensors tell me grandad's wandered off
But this is small beer so far. Let's take an arbitrary cut-off point of 65 years ago. Just consider all the technology advances since then. The computer revolution, robotics... the invention of the MRI, DNA fingerprinting. More recently, alongside GPS, we've got big data, the internet of things and instrumentation. A whole host of new terms that surely can be applied to that constantly renewing market - older people. It's no surprise that tech vendors are eagerly examining this market.
What's available?
In the last few months we've seen what researchers at IBM and Fujitsu have been developing in terms of technology to help ease the burden.
On a recent visit to IBM's Emerging Technology Services Lab in Hursley, researchers showed us technology on both a large scale and a small scale.
The large scale was a project they'd carried out for the municipal government in Bolzano, a city in Italy where a quarter of the population is over 65. More to the point, that quarter of the population soak up half the social care budget for the town. IBM's solution is a mix of sensor-heavy homes and social medicine, all applied via a central database. The project has only encompassed a small group of elderly residents, but supposedly could result in a 30 per cent reduction in care costs.
On the small scale, students at Hursley produced a business plan for a remote care system, centred on tablet app and a website operated by a "remote" carer. This was an evolution of a system rigged up by IBM developer and project mentor Kevin Safford.
Safford was inspired when the need arose for him to step into the role of carer for his own mother while holding down a job 100 miles away. Apart from aspects such as setting up video calls, Safford's own work provided him some less obvious, but touching, insights – such as using the system to program the TV to show programmes he knew his mother would be interested in, but might struggle to find via today's EPG-heavy TVs.
That's the view from the lab. But what does it actually feel like to be in an environment designed by techies specifically to support you as your body stops doing exactly what you want it to do, and starts playing tricks on you?
We got a clue recently when we found ourselves standing in a darkened hall at the Dundalk Institute of Technology in Ireland, wearing 3D headsets and navigating a VR representation of a block of flats designed for oldies in a joint project between the Institute, Fujitsu and the local council.
Sponsored: Minds Mastering Machines - Call for papers now open