Curiosity GOUGES AND SCORCHES Mars with drill and laser
More indelible markers of human presence on red planet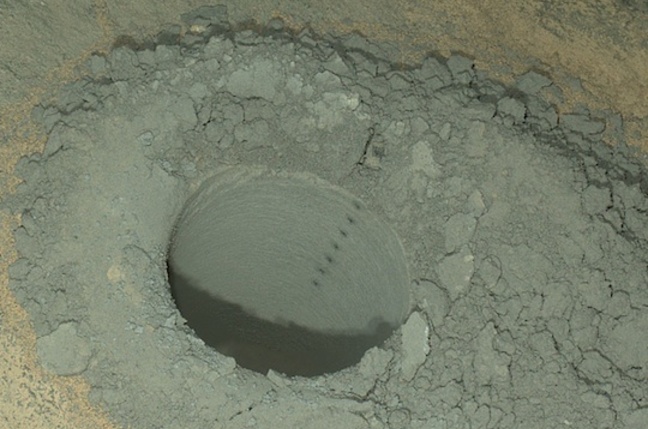 Nuclear-powered space tank Curiosity as struck another blow for humanity by scorching Mars with seven smears of its mighty lasers.
NASA published photos of the rover's latest exploits yesterday, explaining that the latest unfurling of Curiosity's laser weapons was done after the vehicle had first unleashed its drill and penetrated a strategic piece of sandstone.
The drilling operation was a success, powdering a fraction of Mars and ejecting it from the resulting human-made hole. To ensure no local resident could fail to mistake the resulting shaft as the work of humans, Curiosity then blasted its interior seven times as depicted below.
NASA says the "column of scars within the hole", plus another set on the Martian surface, were created by an instrument called ChemCam that helps to determine the composition of the red planet.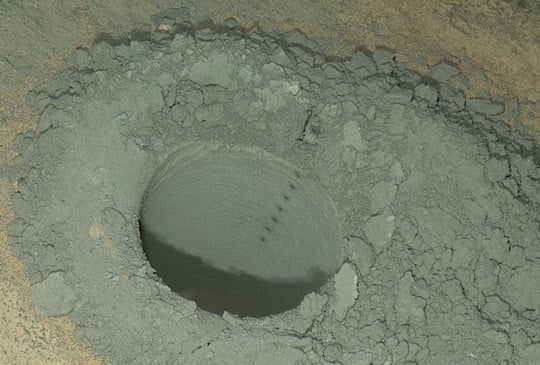 Curiosity's latest assault on Mars, complete with laser scorch-marks
Image credit: NASA/JPL-Caltech/MSSS
The image above, space boffins added, is actually a composite of eight all taken at night with the aid of Curiosity's LED lighting system.
NASA deems this display of human technological might a sufficient demonstration for any Martian life forms in the area and will now despatch Curiosity to a nearby mountain slope for where it will provide further proof of Earth's might by using the drill, laser, and other instruments to once again conduct destructive experiments that forever scar Mars. ®
Sponsored: RAID: End of an era?