Time-rich Brit boffin demos DIY crazytech wolverine talons
YouTube star pulls out air-powered steel claws, skewers Mystique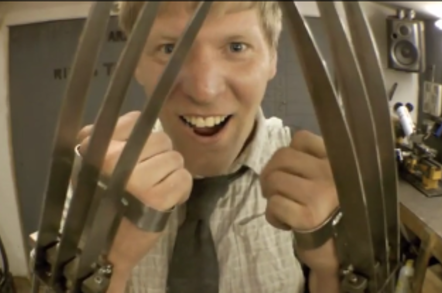 Video Youtube Video
Perhaps you thought the bits of cardboard you meticulously painted metallic grey and sellotaped to your hands were an awesome Wolverine costume last Halloween. If you did, you lacked the sheer naked ambition, engineering knowhow and oodles of time available to one Colin Furze, who has made his very own fully retractable, potentially lethal steel claws.
Furze, who promises more "DIY X-Men" shenanigans to come on his YouTube channel, has posted over two minutes of pure unbridled joy in his creation on the video site, which features him prancing around his garage, showing off his new air-powered toy.
Highlights of the engineering job include the fact that the claws can spark off each other, the ease with which they extend and retract using a set of palm-mounted toggles connected to the compressed air tank on Furze's back and a second video that shows how the industrial talons were made.
Highlights of the Brit's original video include the maniacal laughter, the time he skewers the head of a blow-up Mystique doll on the ends of one set of claws and the fact that he wore a tie for his presentation.
X-Men DIY jobs aren't the only handy bit of work the self-styled "garage inventor" has shared with the internet. He also has a series of videos on how to build a 60mph (100kmph) mobility scooter and other clips featuring a flamethrower moped and a jet-powered bicycle.
According to his website, Furze holds Guinness Book of Records certificates for the largest bonfire, the longest motorcycle, the fastest speed on a mobility scooter and the world's fastest pram. He modestly says he's not any sort of mechanic or engineer, but "just a plumber". He also starred in Sky's short-lived Gadget Geeks show, which had a single season in 2012. ®
Sponsored: Minds Mastering Machines - Call for papers now open