ULA says to BLAME SPACEX for Ruski rocket rebuff
Rockets from Russia pulled? Finger pointed at Musk and Co.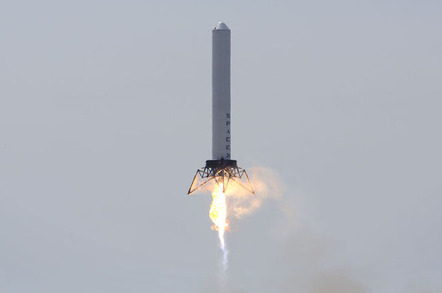 The United Launch Alliance (ULA) says SpaceX is to blame for a looming diplomatic standoff between the US and Russian space programs.
After Russian officials said earlier this week that the nation would only export rocket engines to the US with the guarantee that the parts would not be used for activity "in the interests of the Pentagon," ULA was quick to point a finger at the private space-faring startup.
In a statement provided to El Reg, the firm said:
"ULA and our NPO Energomash supplier in Russia are not aware of any restrictions. However, if recent news reports are accurate, it affirms that SpaceX's irresponsible actions have created unnecessary distractions, threatened U.S. military satellite operations, and undermined our future relationship with the International Space Station."
SpaceX has yet to get back to us with its thoughts on the ULA claims.
The comments come in the wake of a legal spat between SpaceX and ULA, which carries a contract to provide the launch vehicles for US government "national security" projects. SpaceX challenged that the deal was a monopoly which blocked competitors out of the lucrative government contracting market.
Additionally, the company claimed that by agreeing to purchase a batch of RD-180 rocket engines from Russia's government-backed NPO Energomash, ULA was violating US trade sanctions.
The SpaceX injunction was initially granted, but then overturned by the courts and the proposed deal with NPO Energomash was allowed to continue, though it seems plenty of bad blood remains between the two firms.
Even if The Kremlin says "nyet" to the purchase of the engines, ULA said that it will be able to continue launching Uncle Sam's satellites into orbit.
The company is working on another rocket line (Delta) built entirely from US-sourced parts and says that it currently has a pair of operational vehicles and a two-year supply of engines on hand, should the order for the RD-180 engines be disrupted. ®
Sponsored: Minds Mastering Machines - Call for papers now open