Scots team builds SONIC SCREWDRIVER to repair damaged nerves
Audio manipulator creates 'tartan' cell clusters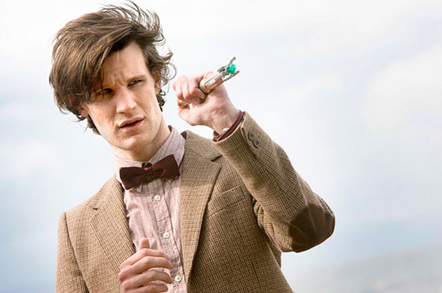 A team of scientists and engineers at the University of Glasgow (who are presumably big fans of Dr. Who) are developing a "sonic screwdriver" to help build tissue samples for medicine with a tartan design.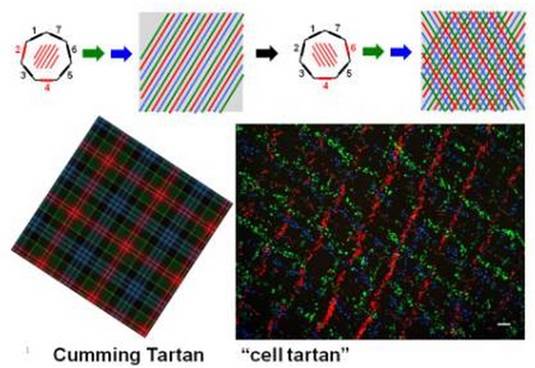 Cells that mimic Scotland's most famous designs
BBC references aside, the instrument's proper name is a Heptagon Acoustic Tweezer, and it has been developed to maneuver cells into patterns so that they can be used to repair damage to the human body.
The device uses the interference pattern produced at the intersection of two waves of sound to manipulate the tiny cells within a culture of phosphate-buffered saline. The sound system managed to align 25–50,000 cells in experiments.
Dr. Anne Bernassau, a Lord Kelvin Adam Smith Fellow in sensor systems, said that the device could be used to lay down cells in precise patterns, which she dubbed a "cell tartan." The dyes used to mark the cells account for the pattern, which she likened to that of the famous Cumming tartan.
"We have shown that the acoustic tweezer is capable of trapping cells at predetermined positions and, by using the ability to switch phase, and operate different sets of transducers, we can generate complex cellular patterns," the team reports in Royal Society of Chemistry's journal Lab on Chip.
"Compared to other methods such as laser guided direct writing, the new device has the advantage of being small, electronically controlled, flexible in the patterning and can be easily integrated with standard microscopy equipment."
So far the device is only capable of working in two dimensions, and on cells in the laboratory rather than on a damaged patient. But Dr. Mathis Riehle, a reader in the Institute of Molecular Cell and Systems Biology, said the technique should be transferrable to three-dimensional repair and the building of cell blocks that can be inserted to fix medical problems. ®
Sponsored: Minds Mastering Machines - Call for papers now open