Microsoft issues update for buggy WinPhone 8.1 mega-update
Turns out even devs don't like having their batteries killed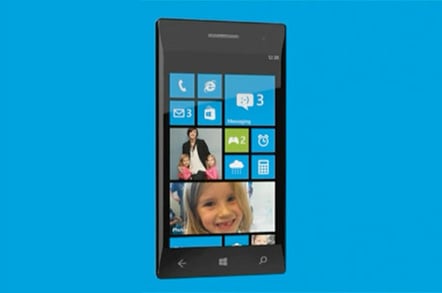 Microsoft has issued an update to the Developer Preview edition of Windows Phone 8.1, but so far it hasn't given much indication as to what has changed.
The new release is available as an over-the-air update to customers who already have the Windows Phone 8.1 Developer Preview installed.
"This update includes several improvements based on the feedback we've received, and we're happy to be rolling it out after just one month," Microsoft's Brandon LeBlanc said in a blog post on Tuesday, but he didn't specify what those improvements were.
Redmond released the preview in mid-April exclusively for registered Windows Phone developers and for anyone with a "developer unlocked" handset.
If you did install it, you risked seriously borking your device. Not all of the device drivers for every Windows Phone handset are available yet, and once you load the preview, there's no way to revert to an earlier version of the OS.
Still, the new features that Microsoft demoed at this year's Build conference were reason enough for some daring souls to take the plunge. Chief among them is Cortana, Redmond's voice activated Siri-like personal assistant, but the new version also bundles Internet Explorer 11 and it adds a few welcome enterprise features, such as S/MIME encrypted email and improved VPN support.
But early reports revealed the prerelease version was less than a walk in the park – which is what you might expect of a release marked "Developer Preview," but still. Users said the preview burned through their phones' batteries and that some features present in previous versions of Windows Phones had been needlessly altered or removed outright.
Comments to LeBlanc's blog post claim the update seems to have fixed some bugs and has improved battery consumption, but until Redmond posts a detailed changelog, we can't be sure.
To receive the update, customers with the old Developer Preview build installed should go to "Phone Update" under their settings and click "Check for Updates." Once it's installed, the OS will report as build number 8.10.12382.878. ®
Sponsored: Minds Mastering Machines - Call for papers now open