Deflation hits Tim Cook – date with him now costs only half as much
$330,001 for lunch with Apple boss, less for other tech execs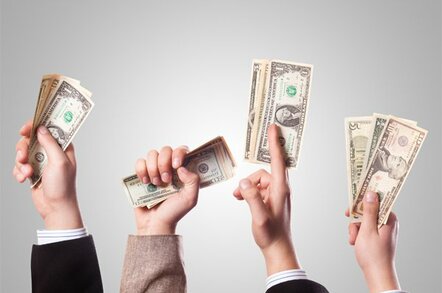 The annual charity auction of executive meetings has seen Tim Cook's value cut by half, but he's still head-and-shoulders more popular than anyone else in the tech industry with buyers.
The opportunity for lunch with the Apple boss at Cupertino, and a front seat at the next big Apple technology launch, was auctioned off for the Robert F. Kennedy Center for Justice and Human Rights. Cook's time went for $330,001, barely half the $610,000 someone paid just to have coffee with Apple's big boss last year.
Cook's crumbling charity value could have been a lot worse. With 24 hours to go, the price of lunch was standing at just $180,000, but there were auction snipers out there and a series of nine bids came in before the anonymous spender bagged their prize.
One possible reason for the fall-off in Cook's charity charms is that the organizers instituted a credit checking system into the bidding process. It's believed that some spoof bidding last year may have affected Cook's final tally.
Other technology executives fared much less well than the Apple supremo. AOL boss Tim Armstrong offered up lunch, a guided tour of the Huffington Post's offices, and a taped interview on the topic of the winner's choice (just don't ask him about that phone call) but as of yesterday got no bids. Someone has now offered $3,500, saving Armstrong some face.
David Fischer, Facebook's VP of advertising and global operations, only managed to raise $2,500 for the chance to sit down at the firm's Menlo Park headquarters for lunch with three guests.
Outside of the technology industry, a mystery punter paid $70,500 for lunch with former Federal Reserve chairman Ben Bernanke at a restaurant of his choice. Former US Treasury Secretary Tim Geithner also put himself up for a lunch date auction, and raised $50,000.
There's still time to get some bidding in on some of the other lots, however. Meeting Cher backstage at one of her concerts (plus two tickets) is currently standing at $8,500 and a three night stay at Robert Redford's Sundance resort is yours for just over $1,000. No one has bid yet on tickets to see the Backstreet Boys in concert. ®
Sponsored: Minds Mastering Machines - Call for papers now open