Boffins debunk red wine miracle antioxidant myth
Soz winos: no positive effects from resveratrol, scientists soberly conclude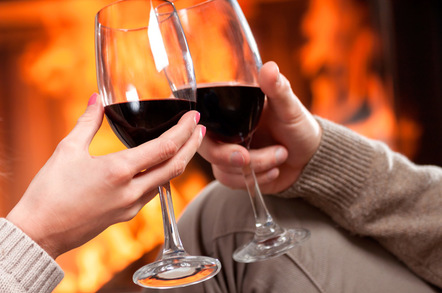 Saddening news from US researchers who have demonstrated that quaffing red wine doesn't confer some of the alleged benefits attributed to the tipple, specifically the ability of the antioxidant resveratrol to "reduce deaths, cardiovascular disease or cancer".
Resveratrol is found in red plonk, dark chocolate and some berries, and as this report from Johns Hopkins University School of Medicine puts it, caused a bit of a stir when studies showed "anti-inflammatory effects in lower organisms and increased lifespan in mice fed a high-calorie diet rich in the compound".
However, the John Hopkins team soberly asserts: "These foods may still be good for you, but resveratrol is not the reason."
To prove it, professor Richard D Semba and international colleagues studied "the effects of aging in a group of people who live in the Chianti region of Italy" over 15 years.
The report continues:
For the current study, the researchers analyzed 24 hours of urine samples from 783 people over the age of 65 for metabolites of resveratrol. After accounting for such factors as age and gender, the people with the highest concentration of resveratrol metabolites were no less likely to have died of any cause than those with no resveratrol found in their urine. The concentration of resveratrol was not associated with inflammatory markers, cardiovascular disease or cancer rates.
The alleged effects of resveratrol were offered as an explanation for the "French paradox", where our Gallic cousins display low levels of coronary heart disease, despite stuffing themselves with high levels of cholesterol and saturated fat.
Semba said: "The story of resveratrol turns out to be another case where you get a lot of hype about health benefits that doesn't stand the test of time. The thinking was that certain foods are good for you because they contain resveratrol. We didn't find that at all."
Semba did concede that "studies have shown that consumption of red wine, dark chocolate and berries does reduce inflammation in some people and still appears to protect the heart".
He noted: "It's just that the benefits, if they are there, must come from other polyphenols or substances found in those foodstuffs."
The John Hopkins findings may not quite mark the end of the resveratrol story, however. A 2013 Australian study indicated it activates an anti-ageing protein, although to get the benefits direct from the source you'd "need to have such large amounts from red wine that you'd probably kill off your liver and be drunk most of the time", as Oz genetics professor David Sinclair explained. ®
Sponsored: Minds Mastering Machines - Call for papers now open