C'mon... lower the drawbridge, NetApp: You could explore Amazon – and Azure
FlexArray has potential for change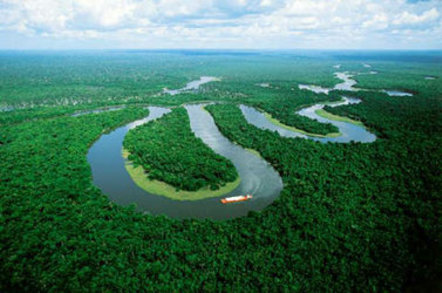 Blocks and Files NetApp has a closed cloud strategy – no OpenStack opening and limited third-party array support. But there is a way its engineers could remedy this – providing its product and corporate marketing strategists and CTO concurred – and that would be to use FlexArray technology as an on-ramp.
NetApp had a diskless head product, the V-Series, which sat in front of an EMC or HDS array, or NetApp's own E-Series products, and virtualised them so that they looked like its own FAS boxes and could participate in the NetApp storage world.
With the arrival of the 8000 range this functionality was subsumed into the DataONTAP operating system as FlexArray software and the separate V-Series product went away.
Comment: A different kind of strategy
Let's get down and dirty and talk cloud storage. NetApp's strategy, thus far, is to promote the idea of on-premise FAS arrays linking to/integrating with FAS arrays in the cloud with its operating system, Data ONTAP, providing the link and enabling, as it were, the on-premise and off-premise (in the cloud) FAS arrays to function as a single logical ONTAP storage resource.
With the included FlexArray software, this means EMC, HDS and E-Series arrays can also participate.
So far so good, and relatively seamless, but also somewhat limited. There are some 275 cloud service providers (CSPs) providing ONTAP in the cloud and these do not include Amazon, Azure, Google and Rackspace, Verizon or any OpenStack-using CSP. In other words, the majority of available cloud storage resources are closed off to NetApp ONTAP users.
But however superior NetApp's offerings might be, it's unlikely that this strategy could persuade its users not to use Amazon, Azure, Google and Rackspace, Verizon or any OpenStack-using CSP.
NetApp could strategically accommodate its users' open cloud wishes and help them access non-ONTAP cloud storage resources. It could potentially do this by adding cloud gateway features to FlexArray:
Amazon cloud gateways, to Glacier for example,
Azure gateway,
Google gateway,
Rackspace gateway
OpenStack support
Gateways to Verizon and other potentially major CSPs.
The company is involved with OpenStack, having contributed a series of drivers for ONTAP that enable NetApp storage and data management to be provisioned through Cinder, OpenStack's Block Storage. (See NetApp OpenStack Grizzly FAQ here (PDF).)
It could go further and use FlexArray as its generic cloud storage gateway and, as EMC is doing with ViPR, widen its third-party array support to include all arrays integrated into OpenStack through the Cinder plug-in. ®
Sponsored: Learn how to transform your data into a strategic asset for your business by using the cloud to accelerate innovation with NetApp