Boeing shows off 7-4-heaven SPACEPLANE-for-tourists concept
No movies, no cabin crew … this bird ain't no jumbo jet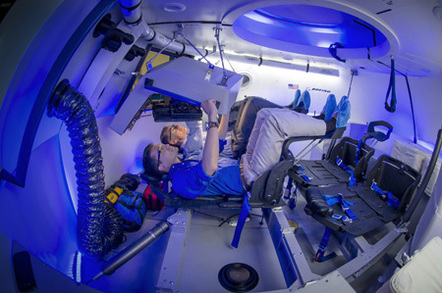 Boeing has revealed a concept design for a spacecraft aimed at getting paying tourists into space.
The concept is based on the CST-100 capsule, a vehicle Boeing and its partner Bigelow Aerospace are pitching as suitable for taxi runs to and from the International Space Station – in less than 12 parsecs, natch.
The astronaut-carrying version of the vehicle is quite spartan, as the illustration below shows.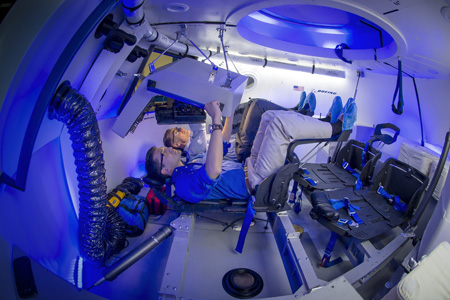 Not much chance of having someone bring you peanuts in here
Image: Boeing
Boeing knows that design won't cut it for space tourists and so it wheeled out former Shuttle commander Chris Ferguson, who works for the company as director of crew and mission operations for the "Commercial Crew Program" to tell us: "We are moving into a truly commercial space market and we have to consider our potential customers – beyond NASA – and what they need in a future commercial spacecraft interior."
That challenge produced the design depicted below.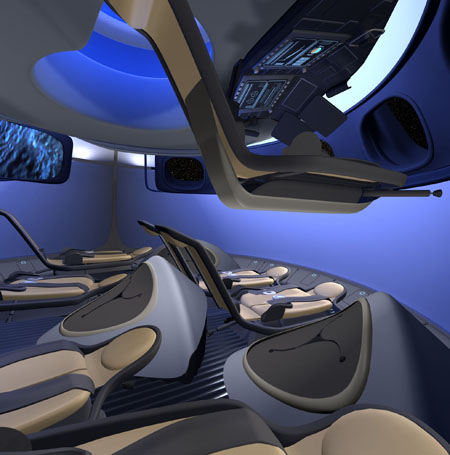 Those swirly things with the three-pronged slits look like cup-holders
Image: Boeing
What you see there is a six-seater with soothing mood lighting, Wi-Fi (probably) and personal storage space. The floating seat would be the domain of the pilot, leaving the six passengers below to enjoy the view.
Boeing has no idea when or if this version of the CST-100 will fly, but is trying very hard to get the conventional version ready for NASA's next cash handout to private operators capable of doing the ISS run. Test flights are therefore scheduled for early 2017 and land-side tests are under way. ®
Sponsored: Minds Mastering Machines - Call for papers now open