Internet of Stuff: Cleaner washing, more milk ... fewer COW FARTS?
ARM man: If we want to make it easy, we need standards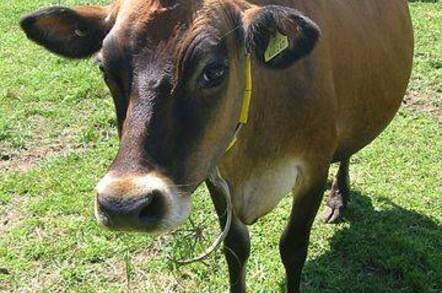 Future World Symposium Regulating cow farts to control the greenhouse effect? That's the thing about the Internet of Things – and technology in general: you can never tell where your work will end up.
Speaking at the recent Future World Symposium, ARM's director of IoT platforms, Simon Ford, reckoned this is one of the problems facing IT vendors right now: knowing where and how their sensors and chips will be used.
Take leading Brit chip designer ARM Holdings, for example. It licenses its low-powered designs to customers who wish to create chips based on its patented ARM architecture. It is currently the toast of smartphones, with about three ARM-powered chips in the average device.
But the Blighty firm is also knee-deep in embedded: two billion of its tiny, energy-efficient "embedded" Cortex-M series controllers shipped in 2013. The 32-bit controllers, measuring just 1.6mm by 2mm, are smaller than the dimple on a golf ball and ship on everything electronic you might expect – from washing machines and cars to games units and computers.
Just as well we called it the M0(ooo... geddit?)
But one place ARM's engineers were startled to see its embedded controllers was being shoved down cows' throats – to monitor the diet and milk yield of herds. The Cortex-M0, ARM's smallest processor, has been inserted into cows onboard a bung-shaped device called Well Cow that's pushed into the animals' gullets.
Data on the cow's pH levels and temperature is beamed first by Wi-Fi to a collar around the animal's neck and out over over a WAN and read on an Android phone or PC. Farmers can use the data to tweak the animal's feed to help improve milk yields but there's also a greener payoff – interrupting the internal chemical process responsible for generating so much methane.
According to the Well Cow website:
Changes in rumen pH have been linked to greenhouse gas production, with a single cow producing up to 200L of methane a day. By monitoring rumen pH and optimizing diets, these emissions could potentially be reduced; making the dairy industry more environmentally, as well as economically, sustainable.
"Putting a sensor in cows to monitor cow milk yield was not what we imagined would be a natural trend," Ford said. "Although my engineers are very smart, this is something they would never have predicted.
"You are unable to predict how the technology [of IoT] would be used."
The lesson is simple - to borrow from Prussian field marshal Helmuth von Moltke: "No battle plan survives contact with the enemy." The saying holds true in IT and the realities of technology rolling out from the labs and hitting real life.
"The technology industry is often ignorant of those realities. Sometimes the industry has made the magic and it likes to predict how those tricks will play out," Ford said.
The challenge for IoT is to try to anticipate customer's needs while making itself attractive to target customers.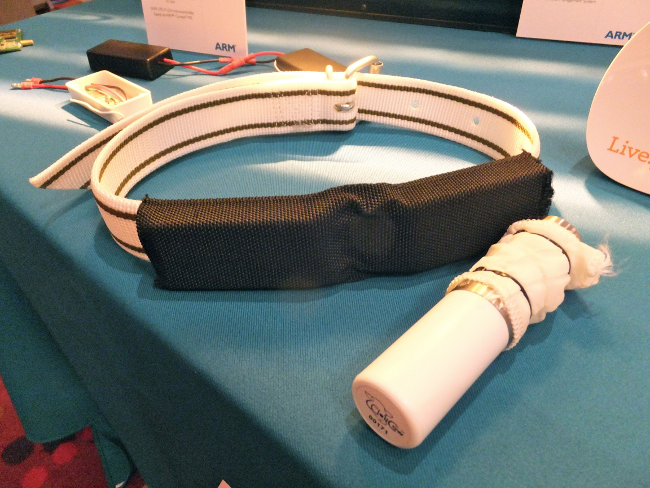 The bovine effect: the Well Cow unit packing ARM controller
The model Ford spoke about was the smartphone apps market - which he called an "industry." What started as niche has gone mainstream. ARM chip architectures, of course, power 95 per cent of the world's smartphones.
"Today, most business can comprehend what an app on a smartphone can do for them and it's plausible they can contract somebody to make it exist," Ford said.
How do you know what to make if you don't know how they'll use it?
But to get there, the smartphone had to clear a set of hurdles: the refinement of chips and batteries; the evolution of standards such as JavaScript; the coalescence of an ecosystem of trusted brand names – names like Samsung, Google, Apple, Microsoft and Amazon; and development of technologies like Android, Windows and iOS that hide complex technologies from the ordinary user.
Ford's job at ARM is to develop an ecosystem of partners in IoT. That means bringing IT companies together to make their hardware and software work together. On the way there they need to overcome a variety of hurdles including the participating companies' use of differing standards, interfaces and technologies.
IoT must break through and deliver smart devices that are cheap to make in volume, highly integrated around radio and, crucially, employ set standards.
IoT will have arrived, according to Ford, when accessing and using smart devices is as simple as building or downloading a smartphone app is today.
"There will be an industry set up that knows how to deliver this [IoT] technology and make it usable," Ford says. "But the most important thing is to think: will this be as easy as 'I've decided that I need a website or an app'? Until it's that easy, it won't happen." ®
Sponsored: Minds Mastering Machines - Call for papers now open