Apple, Beats and fools with money who trust celeb endorsements
Will Apple's rumoured buyout improve the bass-boosting headphones?
Bad apple! Don't you care about quality?
A brief study of Dr Dre on the web shows that he possesses a number of interesting qualities which do not include qualifications in acoustics or experience of transducer design.
From what I can see in the many reviews I have read, Beats headphones seem, unsurprisingly, to create an emphasised quantity of low frequencies – which is probably all right for hip-hop but may well compromise more nuanced material.
Dr Dre reflects on his journey in Been There, Done That – a bit saucy for work in places
The headphones contain something called "by Beats", without a trace of ostentation, and the Beats Acoustic Engine, which is presumably a bit of DSP made for 25 cents and programmed to convolve the unsuspecting input signal with the impulse response of said Mississippi bullfrog.
It appears that this is a classic case of celebrity endorsement. In a world of commoditisation and confused consumers, people often buy something that is recommended by somebody they have heard of in the media rather than something that meets a minimum specification – and will apparently pay a significant mark-up for the privilege.
So one doubts that Apple is desperate to acquire a brand of headphones when it could just do what Beats did and have them designed and made externally. It must be that Apple wants Beats' streaming business. Whether it wants the headphones or not, it'll get them, because it's an all-or-nothing deal.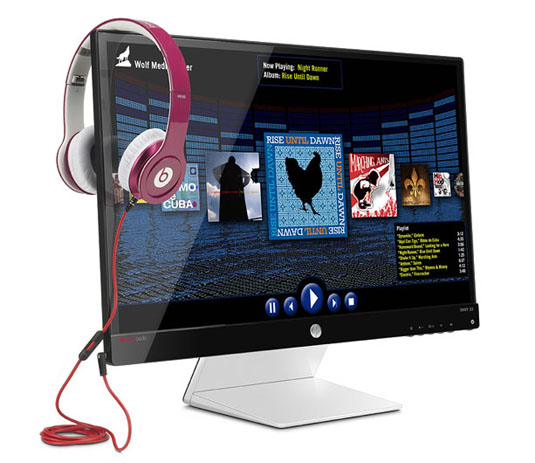 HP kit such as this Envy 23 features Beats Audio
Actually the streaming mechanism of Beats Music is not rocket science and nothing that an Apple programmer couldn't knock up to order. But what Apple must really be after – if the buyout rumours are true – are the rights to the immense music database that Beats obtained when it bought MOG.
The rumoured deal is somewhat reminiscent of Sony buying CBS. But look what happened to Sony after Akio Morita passed away.
It is also not clear how Apple will ever recoup the fantastic sum apparently being offered.
I think it is fair to say that Apple goes – or at least used to go – the extra mile in making its products look good as well as being functional, and that must be reflected in the price tag. Yet Steve Jobs didn't make money endorsing mediocre computers someone else had designed. He was the driving force behind Apple; although he was charismatic, the products succeeded because they spoke for themselves.
NSFW: Is Apple getting down with the kids? Dr Dre was in gangsta rap outfit N.W.A. whose hit track Fuck tha Police apparently garnered a warning from the FBI
Apple in the past was able to disrupt itself at a time of its choosing with it own breakthroughs. If it doesn't continue to do that it will be disrupted from outside on someone else's timetable. Perhaps, without Jobs, Apple is losing its way. Apple has someone eminently qualified to comment on audio in the shape of Tomlinson Holman. I wonder if he has been consulted on Beats?
If Apple were to invest a fraction of the amount they are proposing to pay for Beats into research in loudspeakers and in compensation for room acoustics, they could come up with products that would deliver a step-function improvement in quality over today's museum pieces. But they would also reveal just how bad compressed streaming sounds.
Sponsored: Minds Mastering Machines - Call for papers now open