Goodbye HANA daddy, assorted cloud bods: SAP gets corporate
Time to make some money on this thing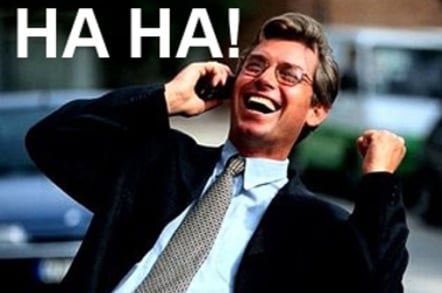 Analysis The cloud "talent" is leaving SAP and the suits are taking over. Is it time to panic for SAP?
The mastermind of SAP's Hana in-memory architecture has gone and so has yet another cloud hire.
Vishal Sikka, executive board member of products and innovation, has left the giant immediately for "personal reasons". Sikka's legacy is Hana, the in-memory data architecture the company is rolling out under its ERP and cloud services.
Gone, too, is SAP's cloud president Shawn Price, who was in the post for just four months.
Price was one of several hotshots snatched up by the giant in 2012 to fast track its way into cloud. He had been working for online HR specialist SuccessFactors, which was acquired by SAP in late 2011. SuccessFactors' CEO, Lars Dalgaard, left SAP in May 2013 to become a venture capitalist.
SAP had already lost the executive running the SuccessFactors unit: Graham Younger, who was poached by cloud storage and collaboration startup Box.
Price had been running SAP's cloud business after Bob Calderoni left in January – Calderoni was the CEO of e-business specialist Ariba, bought by SAP in 2012.
Are the cloudy skies falling early on the dreams of the world's largest maker of business software to wean itself from a fat and once endless seam hefty on-prem licensing and maintenance charges?
Heads in the clouds pull out
What seems to be taking place around these departures is a corporatisation of SAP's cloud. It was inevitable those behind the cloud assets SAP acquired in 2012 should leave – entrepreneurs and company inside acquiring big ships like SAP seldom last. Often, they only stay long enough for their shares to vest.
In their place seems to be coming a structure intended to run cloud as a productised and partner-supported function of the entire SAP business rather than successful enclave.
It has been the cloud-related portions of SAP's business that have been getting the glory. SAP tells us that cloud subscriptions, services and software are growing the fastest.
Cloud is growing in double digits while SAP's existing on-prem business is falling – down five per cent per cent under IFRS rules, in the first quarter that was reported in April.
The problem is not only that the software firm can't seem to manage to grow sales of new copies of SAP software, but that cloud, the new hope, remains a tiny piece of the pie.
It was the rather unsexy maintenance of existing, on-premises versions of SAP software that was the company's only business activity to be recorded in billions of dollars/euro. Everything else was in the hundreds of thousands range.
The result has seen SAP push back its corporate growth targets by two years. In January, SAP said the target is now not as was hoped for €2.0bn ($2.7bn) from cloud by 2015 but for between €3.0bn ($4bn) and €3.5bn ($4.7bn) and €22bn ($29.7bn) total revenue by 2017.
What seems to now be happening at SAP is an attempt to address this.
Price's position will not be filled – rather his responsibilities are being broken out among other executives.
SAP has also created a global partner organisation that will work directly with the chief executive, inside the office of the CEO to ensure top-level attention. GPO will be run by the former head of SAP Americas Rodolpho Cardenuto and will run OEM and strategic partners with Business One for SMBs in addition to the SAP ecosystem for cloud and non-cloud.
CEO Bill McDermott in a statement called GPL "key" to driving scale and adoption of the SAP cloud and Hana. He also pointed out Cardenuto had achieved double-digit revenue growth for SAP. During the first quarter of this year, SAP Americas saw 10 per cent growth in software and software related services revenue (non IFRIS) compared to four per cent for SAP global. Subscriptions and support revenue was up 37 per cent versus 32 per cent.
The executive changes follow last month's announcement by SAP that it's making its entire business applications suite available online and selling through subscription. This is software that had once only been available on premises and sold with a hefty license and a maintenance contract.
The priority is clear: for SAP to make more money. The time for action is now.
All this comes as McDermott is expected to be confirmed as SAP's sole CEO on 21 May at the company's annual meeting – he had shared the CEO's post with Jim Hagemann Snabe, who last summer announced he is retiring.
McDermott is an sales man through and through, once a vice president of worldwide sales and operations at Siebel Systems, he was grabbed by SAP in 2002 to turn around the dire financial performance of SAP Americas.
We should not be surprised as these changes. Another software corporate has been though this too – Microsoft. Windows Azure was developed by a team formed by the company's one-time chief software architect Ray Ozzie.
But Microsoft moved the Azure team into its Server and Tools business unit in 2009. Redmond soon applied product people to help it start to make money from the beast. Server and Tools has been one of Microsoft's most successful business units and Microsoft one year ago claimed to have made its first $1bn from Windows Azure.
SAP must hope that applying the corporate method will work for it, too. ®
Sponsored: Minds Mastering Machines - Call for papers now open