Life in the FAS lane: We reveal NetApp's four new flash-disk arrays
Separate mid-range FAS3000 on way out, FAS8080EX due in June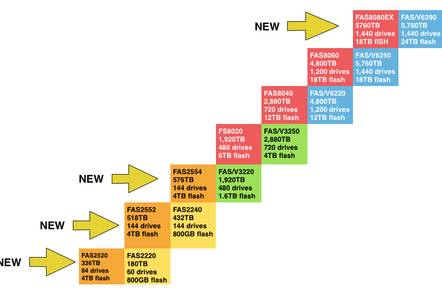 Exclusive NetApp is replacing the top and bottom of its FAS array range with new boxes – and getting rid the separate FAS3000 class mid-range product.
When the FAS8000 series was launched in February, this was the FAS array family photo: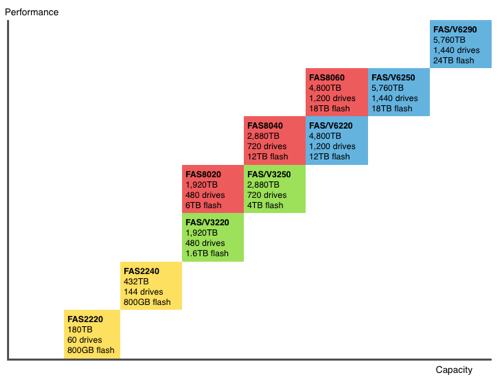 The models are roughly positioned in a 2-dimensional space; the vertical axis is performance from low to high, and the horizontal axis is the capacity from low to high capacity axis. The red boxes are FAS8000s and the yellow, green and blue boxes are FAS2200s, FAS3200s and FAS6200s, respectively.
The 8000s replaced most of the 3200s and 6200s, leaving scope for NetApp to upgrade the FAS2200s, 3200s and 6290 to the same kind of technology used in the 8000s. This is what the array maker is now going to do.
According to information and slide decks seen by The Register, the resulting FAS2500 and FAS8000 range will look like this: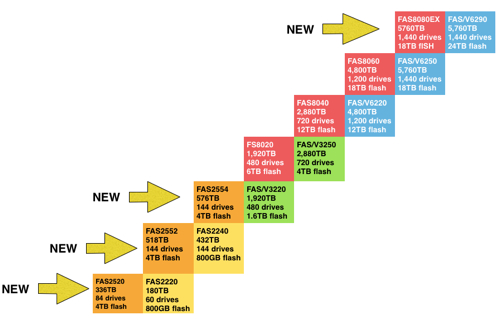 The new NetApp line-up ... Click chart to embiggen
The new products are indicated with their name, maximum capacity, and the number of drives, plus the maximum flash capacity in a Virtual Storage Tier (VST), and can be compared to the replaced products. In summary, the changes are:
New entry level FAS2520 replaces current FAS2220
FAS2552 replaces FAS2240-2
FAS2554 replaces FAS2240-4
FAS/V3220 goes away
FAS8080EX replaces FAS/V6290
The FAS2500s are characterised, like the FAS8000s, as being flash-accelerated and massively scalable via scale-up features and cluster scale-out attributes. They appear not to have the FlexArray software that enables a FAS array to manage and virtualise EMC, HDS and NetApp's E-Series arrays.
The hardware can also link to clouds operated by 275 service providers around the globe using Data ONTAP, the FAS operating system.
They have a new IO profile - 10Gb Base-T on FAS2520, and UTA2 on FAS255x.
Distribution channel partners are being told there are more than 60,000 installed entry-level FAS arrays potentially to be upgraded to the FAS2500s. Also the new products have zero downtime for upgrades, refreshes and replacements.
Competition for the FAS2500s is identified as:
EMC VNXe3150/3300
HDS HUS110
Nimble CS200/CS400
HP MSA1040/2040 and StoreServ 7200
Dell EqualLogic PS Series
None of these have a full unified architecture according to NetApp.
The FAS8080EX has a different processor set, with 25 per cent more cores (40 in total), than the 8060 and is 1.7x faster. It has twice as much memory, flash and NVRAM. Compared to the 6290m it has 1.7 times more cores, 1.5 times the flash, 1.3 times the memory, and 4 times the NVRAM.
In total the FAS8080EX can deliver up to 4 million IOPS, has a 70PB scale-out capacity, and 99.999 per cent availability ("five nines").
We haven't seen any competitive info for the 8080EX, but we suppose it is the lower parts of the EMC VMAX, HDS VSP and IBM DS8000/XIV products.
The FAS8080EX is expected to be announced in mid-June. NetApp's policy by the way, on being asked about supposed new products, is not to comment on speculation or rumour. ®
Sponsored: Minds Mastering Machines - Call for papers now open