Brit chap weaves silver bullet for wireless health scare bollocks
Shortwave-shorting shorts use silver to protect wedding tackle from radio-infested planet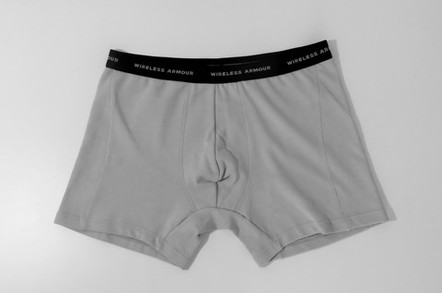 Move over, brain-cancer scare-mongers: a Brit physics graduate has taken the kind of material used to create anti-stink exercise gear, run it up as underwear, and is trying to flog it as a Faraday cage for mens' wedding tackle.
By including four times as much silver in its product than the typical five per cent weave used for anti-microbial deodorant garments as are loved by cyclists and gym-junkies, Wireless Armour says its underwear, a snip starting at £24 per pair, will block all electromagnetic radiation from 30 MHz to 18 GHz.
The Indiegogo offering, here, says the Wireless Armour underwear is "designed to protect the health of a wireless generation glued to their mobile devices. We are exposing ourselves to unprecedented levels of Electromagnetic radiation and this is showing with our declining sperm counts and increasing cases of cancer."
Over on its own page, Wireless Armour has gems like this, discussing the 450 MHz band: "This frequency is part of the controversial TETRA frequencies. It is used for Government and Police communications. There is a lot of support against this new communications system, citing many health concerns".
The outfit also states that TETRA is one of the two most important bands to block (along with with GSM bands), along with the various WiFi bands. The company's understanding of frequency allocations can be examined by all and sundry here.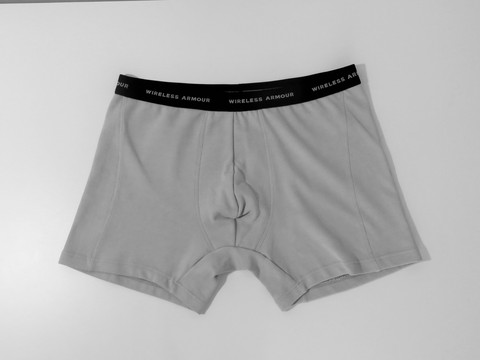 Worried about your cojones? There's a silver lining
While 450 MHz is stipulated for TETRA, the band has been in use for decades: TETRA merely uses the old carriers for digital instead of analogue signals. That hasn't stopped wireless kooks from treating it as something new and dangerous, as Wireless Armour cites.
Unless you habitually hang a walkie-talkie of some kind from your belt, however, you're not likely to encounter any 450 Mhz sources you hold against your body.
There's also reference to this study which showed a very nearby WiFi source, continually operating for four hours, will kill sperm that's outside the body. As The Register reported at the time, the study has limited real significance.
As Dr Allan Percy of the University of Sheffield noted then: "Ejaculated sperm are particularly sensitive to many factors because outside the body they don't have the protection of the other cells, tissues and fluids of the body in which they are stored before ejaculation."
While there's no reason to doubt that the fabric can probably block radio frequencies, El Reg would quibble at the persistent references to a "faraday cage", since the latter is an enclosure and mens' underwear isn't. ®
Sponsored: Minds Mastering Machines - Call for papers now open