Microsoft may launch several new Surfaces on May 20 – report
Pint-sized ARM model said to dump Nvidia for Qualcomm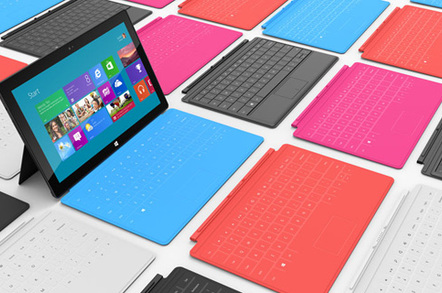 Microsoft's Surface launch event on May 20 may be a bigger deal than was previously thought, with multiple new models to be unveiled, a new report claims.
Redmond hasn't said what it plans to announce at the media event, billed as a "small gathering" in New York. But most rumors point to a "Surface Mini" – some version of Microsoft's slow-selling fondleslabs with a smaller screen.
In fact, Bloomberg reports that such a device is a sure thing, and sources familiar with Microsoft's plans claim they can even name the supplier of the processor that powers the device: Qualcomm.
If that's true, it would be significant for two reasons. First, it would confirm the longtime rumor that the new tablet will arrive running Windows RT, Microsoft's stripped-down version of Windows 8.1 for ARM chips that only supports apps from the Windows Store.
Second, it would be the first time Microsoft has sourced its tablet CPUs from Qualcomm. Both previous ARM models – the Surface RT and the Surface 2 – were based around Nvidia Tegra chips.
Not that Microsoft and Qualcomm are exactly strangers. Windows Phone has always run exclusively on Qualcomm processors, despite repeated calls for Redmond to open the platform to additional chipmakers.
But for Microsoft to jump ship to Qualcomm for Surface would be another knock to Nvidia, which has struggled to find smartphone and tablet customers for Tegra and has instead been trying to pitch the chips to the gaming and automotive markets.
As for Windows RT, that might not actually be such a bad idea. Here at Vulture Annex in San Francisco, we've tried using full-blown Windows 8.1 on an 8-inch tablet and found it to be a trying experience. But the selection of apps in the Windows Store still fails to impress, and some of the built-in ones still seem weak compared to the equivalents on other mobile platforms.
If Bloomberg's report is to be believed, however, Microsoft might not be putting all of its eggs in one basket with this latest Surface launch. The same sources claim that "other new Surface models" will debut at the May 20 event, including ones with Intel processors.
That raises various intriguing possibilities. Microsoft currently only markets one Intel-powered fondleslab, the $899 Surface Pro 2. It could be that the software giant is planning some kind of feature boost to that product, such as upping the processor clock speed or (dare to dream) improving the battery life. But given that the Pro 2 was itself a fairly minor upgrade from the original Surface Pro, there wouldn't seem to be much point.
And then there's that tagline for the launch event, about it being a "small gathering." Could it be that Microsoft is planning to introduce more than one small slab, including one running Windows RT and an Intel-powered one running Windows 8.1?
Doing so could give Redmond the opportunity to figure out where previous pint-sized Windows tablets have fumbled and provide some thought leadership for its OEM partners.
But with Windows fondleslabs clinging to just 4.4 per cent of the market, according to the latest figures from Canalys – and more than half of those sold by Microsoft itself – getting Windows running smoothly on small screens is hardly the only challenge Redmond faces in its new "devices and services" strategy. ®
Sponsored: Minds Mastering Machines - Call for papers now open