BT fibre 'availability checker' looks into FAR-OFF FUTURE. Again
Repeated murmurings of ad watchdog seemingly fail to strike fear into telco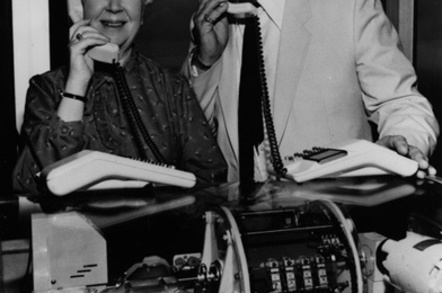 One-time national telco BT misled customers with unsubstantiated claims regarding its broadband download speeds, the UK's advertising watchdog has ruled today.
The company slipped up, the Advertising Standards Authority said, by misleading potential subscribers who used its BT.com website to look up whether its fibre optic product was available in their area yet.
Download speeds quoted on the telecom giant's availability checker site, the ASA concluded, "would be a material consideration for consumers" when shopping around for what broadband product they should sign up to with BT.
But the ad regulator found the website had misled customers because it "included a download claim related to a specific address which was not available to that consumer."
BT attempted to dismiss the complaint by stating to the ASA that it was unable to provide the watchdog with "detailed analysis of non-BT customers' lines" because another wing of its business - Openreach - did not share the information with the retail division.
The ASA said:
Openreach confirmed that they were a functionally separate organisation to BT's consumer facing divisions and that they provided wholesale services to their communications providers and that included information services such as line speed estimates.

Openreach explained that to estimate line speeds, they carried out detailed and large scale statistical analysis of possible speeds and the quoted values seen by the complainant were typical of what could be achieved by the vast majority of superfast broadband lines.

They said the speed estimate ranged from the 80th to 20th percentile for similar phone lines, therefore, 80 per cent of end-users could achieve the quoted speeds. They said they had checked the complainant's line and confirmed that it lay outside the statistical range, and due to a variety of reasons, the complainant would be unable to achieve the quoted speeds.
BT was told to ensure that its online broadband checker service provided accurate information in future. It was also ordered not to allow the speeds claim to appear again in its current form.
This is the third time in recent months that BT has been jabbed by the ASA for misleading folk over when its faster broadband product would be available in their local area.
In January 2013, the regulator upheld complaints submitted by 15 people who had griped about BT because its "availability checker" website for its Infinity and Total Broadband products, in some instances, repeatedly pushed back the dates over a long period of time.
Back then, BT said it was disappointed with that particular ruling, but promised to work more closely with the ad regulator to make sure that the information it provided to customers about its fibre rollout was as clear as possible.
However, in November last year BT was caught fibbing to Manchester residents, after it wrongly claimed that its Infinity product was already available throughout the city.
It would seem history - to paraphrase Shirley Bassey - keeps repeating itself. ®
Sponsored: Minds Mastering Machines - Call for papers now open