CTERA gets bitten by EMC's snake, develops ViPR compatibility
Third-party data services get a dose of venom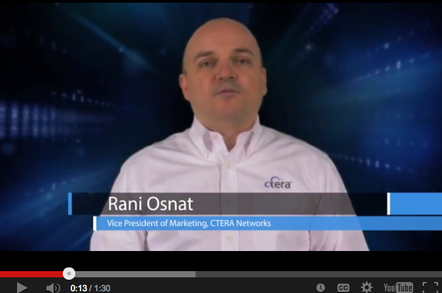 Deep breath: cloud storage gateway and cloud services platform product startup CTERA has gone and got itself snake-bitten – it's now ViPR compatible.
ViPR is EMC's software layer to provide separate control plane orchestration functions and data plane services – such as file, block and object access – across its own and third-party storage arrays and also commodity hardware.
Think of CTERA's Cloud Storage Services Platform as a third-party data services component in a ViPR installation.
CTERA has completed ViPR ISV compatibility testing, and says its gear provides enterprise cloud storage services to EMC's software-defined storage (SDS) orchestration and control layer. CTERA's Cloud Storage Services Platform product provides a "suite of data services – including remote office and branch office (ROBO) file storage, endpoint backup, server backup and self-branded portal for service providers – all from a unified platform with single pane-of-glass management."
The CTERA software can use Atmos as an object storage array base, and many existing CTERA customers do so. CTERA's marketing VP Rani Osnat boasted in a corporate vid in October that, by integrating with ViPR, CTERA can access object storage, file storage and block storage systems together through a single interface.
CTERA is showing off its ViPRness at EMC World in Las Vegas this week. ®
Sponsored: Minds Mastering Machines - Call for papers now open