Virgin Mobile Oz steals Vodafone's shipment of fail
Credits offered for day-long outage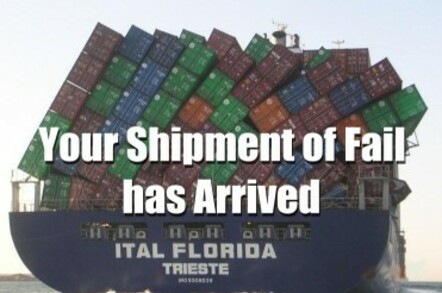 Optus' mobile virtual network brand Virgin Mobile has apologised to customers and is now offering rebates after a day-long network outage over the weekend.
The company's network went into meltdown during Friday evening, May 3, affecting as many as a third of its one million customers, and the outage continued well into Saturday.
The outage affected all services – phone calls, texts, and mobile broadband. Although Virgin posted an apology to its Facebook page stating that issues had now been addressed, some users still complained of continued access problems as late as Sunday night.
Its Facebook statement read:
"Virgin Mobile would like to sincerely apologise for the network outage that has occurred today. We understand the importance of connectivity in the lives of our customers and would like to assure you that we have taken every step to resolve this as quickly as possible.

Additionally we would like advise that all customers affected will be given a credit that is the equivalent of their access fee for the entire day.

Again, we apologise for this unplanned outage, and we will ensure all outstanding network issues are fully resolved as soon as possible."
Back in March, Optus suffered a network outage that impacted Virgin customers, as well as those of independent reseller Amaysim.
Vodafone Australia would be forgiven for permitting itself a wry smile: persistent outages in 2011 led to the carrier being dubbed "Vodafail", damaging the carrier so much that as late as 2013 it bled more than a million customers to Telstra.
Last week, new CEO Iñaki Berroeta and his CTO Benoit Hanssen said that with two engineers in charge – and a large bucket of cash spent on a network upgrade commenced by former CEO Bill Morrow, now chief of NBN Co – history would not be repeating itself.
That build has prepared Vodafone for "years" of LTE operation, with most of the transmission network now transitioned to IP. ®
Sponsored: Learn how to transform your data into a strategic asset for your business by using the cloud to accelerate innovation with NetApp