Obama: I'm the CTRL-ALT-DEL President
Immortalises IBM's three-finger salute and asks what NSA critics are smoking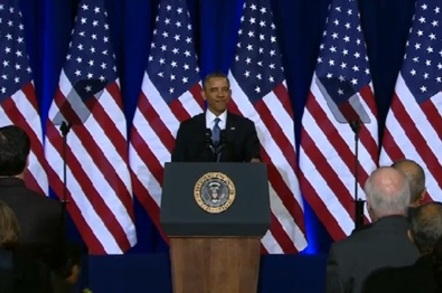 US president Barack Obama has immortalised IBM's three-finger salute in his speech to the annual White House Correspondents' Dinner.
The Dinner is run by the White House Correspondents' Association (WHCA), an organisation whose members are journalists who cover the White House. The US president or vice-president nearly always speaks at the dinner, which often features self-deprecating humour and a little more push-back from the speaker than would usually be heard in public.
Obama this year took the opportunity to refer to Edward Snowden's revelations about the extent of US domestic surveillance, as he noted "Colorado legalized marijuana this year, an interesting social experiment," immediately adding "I do hope it doesn't lead to a whole lot of paranoid people who think that the federal government is out to get them and listening to their phone calls."
The president's remarks also reviewed his own year, including his big technology failure, as follows:
"Of course, we rolled out healthcare.gov. That could have gone better. In 2008 my slogan was, 'Yes We Can.' In 2013 my slogan was, 'Control-Alt-Delete.'"
At about the 18:20 mark of the video below, Obama also seems to make a Matrix joke, and also to mock the Demo Gods.
Obama's reference to Control-Alt-Delete immortalises a small part of computer industry history. It also raises another question: if Obama is the CTRL-ALT-DEL president, who is the BSOD commander-in-chief? ®
Sponsored: Minds Mastering Machines - Call for papers now open