VMware loses top community man Troyer
A marketer even Trevor Pott likes is going freelance with his success formula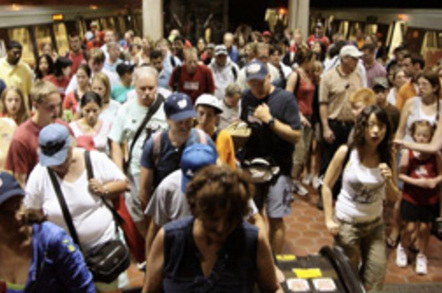 VMware's community manager, John Troyer is leaving VMware. Troyer is striking out to create a new, vendor-neutral community called TechReckoning, and will fund this venture by freelance consulting with vendors on how they can build up communities of their own.
It might seem odd to those who aren't part of the VMware community to write up a news article about a community manager leaving. Community managers are generally associated with typing things into Twitter, glad-handing bloggers and otherwise being of questionable value. That may be the stereotype, but that was never Troyer.
Troyer redefined modern marketing. He almost singlehandedly built up VMware's community. It was his insight; his charisma and his unrelenting force of will that created the unquestionably evangelical following that catalyzed around VMware and its ecosystem. I cannot overstate the goodwill this one individual has managed to generate.
Troyer is one of the most affable, humble individuals I've ever had the honour to meet. He is quick with a smile and handshake and yet he has a power and presence in person that has to be witnessed to be comprehended. VMware is without question losing one of the most valuable employees it has ever had … and the entire IT marketing industry should be simultaneously elated … and pissing itself in terror.
Freelance firebrand
To have access to Troyer's experience and expertise is certainly a boon for any company that currently has – or desires to create – an IT community. Everyone from Microsoft to Silicon Valley startups could benefit from his expertise, and I expect that he will command the highest premium in the industry. Even if all he tells them is blatantly obvious. (Repeatedly pissing off your customers, ecosystem partners and developer community by refusing to listen to them is not how you win friends and influence people, Microsoft!)
Troyer not only held the VMware community together through VMware's disastrous vTax blunder, he managed to crow the community through that period. He has created the VMware vExpert program, an endeavour so successful that it has inspired a host of imitators.
The value to marketing drones everywhere is clear, as is the direct threat to any number of consultants in the field.
TechReckoning
The real threat, however, comes from Troyer's announcement that he seeks to create a vendor neutral tech community called TechReckoning. Such is the respect and goodwill that Troyer commands that with nothing more than a Twitter account set up, I am 100% confident that TechReckoning represents an existential threat to companies like Spiceworks. If Troyer wants to make a vendor-neutral technology community then a third party technology community will be born, and it will have the unquestioning support and unwavering commitment of the most charismatic and influential people in our industry.
A vendor-neutral community is a huge benefit to the users and administrators of technology. IT is where the marketing gets stripped out and people talk honestly with one another about the real-world challenges and triumphs they've experienced. So much money – tens of billions of dollars every year – goes into bamboozling us having a "bullshit free zone" is of huge value.
This is what Spiceworks has tried to be for several years now. Spiceworks recently raised $US57m in funding – bringing their total to $111m – and I have to believe there are a lot of someones looking at that pile of money and freaking out right now. In fact, the same is probably happening at every startup where "the community" is a significant part of the value of the company.
One thing is certain: Troyer's decision will be reverberating throughout Silicon Valley for some time to come. When the dust settles, it will be us "regular folk" who are the ones to benefit. How often does that happen? ®
Sponsored: Minds Mastering Machines - Call for papers now open