WD results confirm it: Disk buyers ARE spending less
Enterprise SSD sales slide too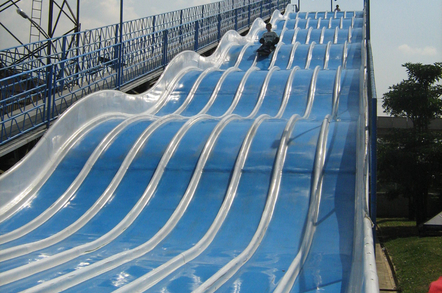 Is there a disk drive sales slump? Seagate's latest quarterly results suggested it and now WD's results confirm it. Enterprise disk drive buyers are spending less money.
Despite all the marketing/analyst guffery about data bloat driving storage sales, both Seagate and Western Digital have seen lower sales in the last three months.
Here's the overall WD picture: revenues in the third fiscal 2014 quarter, ending 28 March, were $3.7bn, down a tad compared to the $3.76bn recorded a year ago, and down $300m on the $4bn reported in the second quarter.
Profits were $375m, which compared to the $391m earned a year ago, and the $430m earned in the second fiscal 20124 quarter. WD built 60.4 million drives. The number was 63.1 million in the previous quarter and 60.2 million a year ago. Overall it's not a pretty picture. Why did the buyers buy fewer drives than before?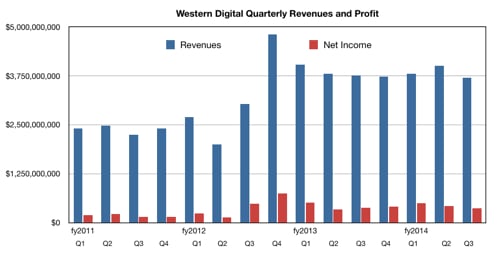 WD profit and revenue numbers to Q3 fy2014. Click chart to see larger version
Prez and CEO Steve Milligan said: "Our results reflect sustained strength in gaming, anticipated seasonality in client and branded products, and some softness in the enterprise space. ... We continue to see demand stabilising in the commercial side of our client business as part of a PC refresh cycle and we remain positive about the long-term demand trends in the enterprise space. The continued strength in gaming is due to consumers' healthy demand for the newest game console designs, all of which have integrated hard drives."
In the earnings call, Milligan talked about the enterprise weakness, remarking: "The primary area where we saw a bit of weakness in terms of enterprise demand was in capacity enterprise." No onrushing data tsunami here then.
This market "tends to be dominated by a relatively few number of customers," and if they buy less, the effect is considerable.
That's what happened, apparently: "What we saw was increased efficiency from the standpoint of some of our significant hyperscale buyers. ... they're basically working off inventory that they already had in place, " This matches Seagate's experience.
That demand should pick up, says the chief: "We see that [weakness] persisting through our current quarter that we're in, our fiscal Q4, and we expect that demand will pick up in the second half of the year, more in line with what we've been seeing in the past. "
Milligan also said: "Our enterprise-class SSD business had another strong quarter," but enterprise SSD sales totalled $134m and were down 13.6 per cent on the previous quarter although 46.5 per cent higher than a year ago.
Yet SSDs are hot and it's surprising - at least to this hack - to see a quarterly decline, especially with WD Corp's (WDC) HGST unit having accumulated so many flash storage operations – such as sTec, Virident, and Velobit.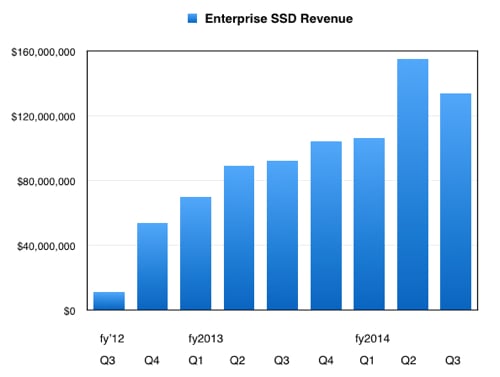 WD Enterprise SSD revenue history
Milligan reminded call attendees: "relative to the sTec side, the momentum there was not exactly positive. I think you've got to consider that really we bought a, I hate to call it this, but a little bit of a distressed asset. ... legacy sTec products ... will go away."
WDC CFO Tim Leyden said: "We continue to expect that our SSD enterprise business will outpace the market's revenue growth rate over the long term. ... We're putting together the multiple roadmaps for sTec, Virident, VeloBit, and the JDA. And as we put those together, we will have some efficiencies that will come from cost. We'll obviously be building up our revenue."
Sales of the 6TB helium drives went well, said Milligan: "Several strategic OEM customers have qualified our 6TB helium filled drive and we are shipping to them in volume."
Andrew Nowinski of Piper Jaffray commented: "... it looks like both notebooks and desktop units under-performed relative to Seagate this quarter."
As with Seagate, WD has found hybrid flash/disk drives disappointing, with Milligan saying: "Frankly it hasn't been as compelling of a product, or has not tracked to our original expectations. And I think that is not only a WD statement, but is also frankly largely an industry statement. ... the reality is that the sales level, the revenue level, have been disappointing versus our original expectations."
WD and HGST revenues, net income and other items were not separated out. WDC is working with the Chinese regulator MOFCOM to get the go-ahead to integrate the HGST unit into its operations so it can become more efficient and lower costs. MOFCOM is reviewing WDC's submission about this.
In the final quarter of the year, Leyden expects "revenue to be seasonally down and in a range of $3.5bn to $3.6bn. ... Each of the different segments, other than gaming, is likely to be down as you look quarter on quarter."
This means full fiscal 2014 revenues would be $15.05bn at the mid-point, 2 per cent down on fiscal 2013. That's not a great result. ®
Sponsored: Minds Mastering Machines - Call for papers now open