SpaceX: We NAILED the Falcon 9 landing! The video, on the other hand...
Company asks for help in cleaning up footage of splashdown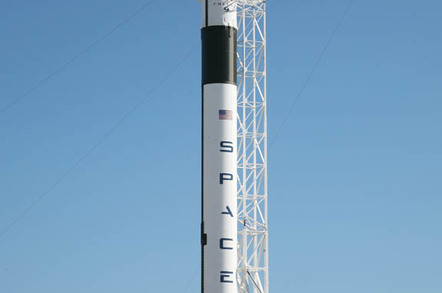 Private spacefaring firm SpaceX is looking for a few good video engineers to help recover footage of the historic Falcon 9 rocket splashdown landing.
The company said that it had recovered footage from on-board cameras on the re-usable rocket which serves as the first stage propulsion for the company's Dragon spacecraft. The rocket launched earlier this month as part of a resupply mission to the International Space Station.
The flight also marked a first for SpaceX as the firm would try to perform a successful landing for the first stage of the Falcon 9 rocket. The company has long touted a return capability and subsequent reuseability of the rocket as being a key to achieving cost-effective commercial space travel.
Originally, the plan was for a recovery craft to document the descent and safe landing of the first-stage rocket as it touched down in the ocean. Inclement weather, however, left the boat unable to reach the Falcon 9 in time to catch the landing.
As such, on-board cameras, recovered from the craft, provide the only documentation of the hovering and splashdown. Unfortunately for Elon Musk and his company, when they pulled the footage from the cameras, this was what they saw:
The company said that since the landing, it has been working to recover the footage, but so far only a few precious seconds of the landing have been dug out.
SpaceX is now asking users to help out with the video recovery process. A copy of the raw video has been posted for download in hopes that one or two amateur (or perhaps even professional) video techs can recover the footage and provide a better glimpse of the Falcon 9's soft-ish touchdown. ®
Sponsored: Minds Mastering Machines - Call for papers now open