Quid-a-day Reg nosh posse chap faces starvation diet
780 calories a day, Toby? You must be joking
Feijão com arroz sounds rather posh, right? Take a look
Fellow posse member Neil Barnes, who's doing the challenge with missus Anita, used the NHS website to calculate that the pair of them have of total of 14,133 Calories for the week. He said: "Call it 1,400 each per day though I'm probably on the larger share. Either way we're in the weight loss department."
Neil expressed his surprise at the low figure, but observed: "Normally there's a lot more fat from meat and cheese, I suppose, and more potatoes."
Last night's dinner at chez Barnes was feijão com arroz, the name of which at least gives the illusion that you're eating a tropical delicacy, rather than beans and rice: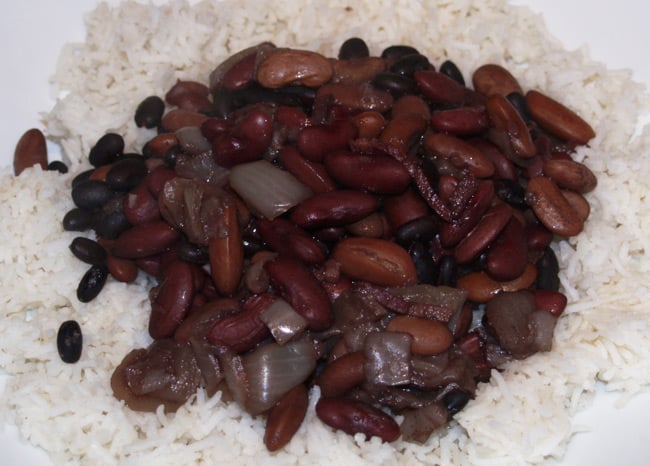 Beans com arroz - lovely
Chris Winpenny, meanwhile, reports he's "just starting to look longingly at tangerines, not sure if it's hunger or the need to taste something sweet".
He also did a calorie count, and concluded he's "a tad over 2000 Calories per day average". He said: "Never having looked at calories before I was surprised to see that pound for pound rice and lentils have about 4.5 times the calories of potatoes, something to keep in mind."
In my case, I'm basically on two eggs, four slices of bread, two platters of chick pea stew and rice plus 5-6 cups of tea a day.
It's monotonous - certainly not a long-term diet - and this is how it pans out, according to the data from the NHS:
1L milk - 630 Calories
Bread (20 slices) - 1,160 Calories
12 eggs - 996 Calories
2kg rice - 2,720 Calories
1kg chickpeas - 1,176 Calories
Total - 6,682
That works out at 1,336 Calories a day, which rules out any heavy digging in the garden until I get my laughing gear round a bacon sarnie on Saturday morning. I'm not suffering too much, though, since the sheer bulk of rice available guarantees a full stomach at least.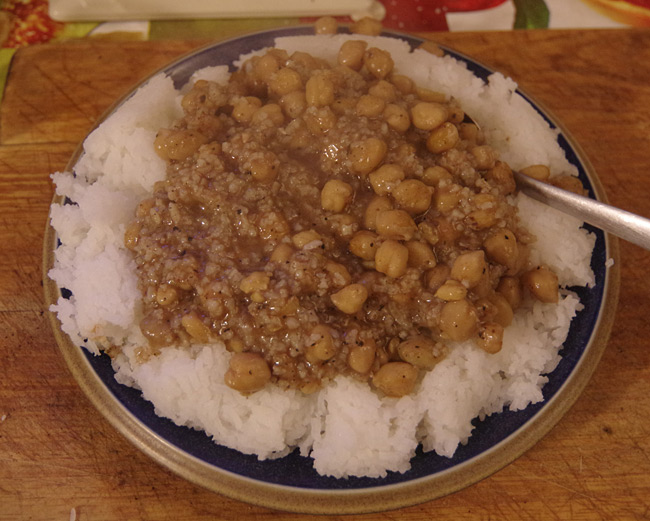 My plate runneth over - with rice
Our intrepid team now has to endure less than two days of subsistence, and as we spy the distant finishing line, those of you who are currently enjoying a coffee and chocolate biscuit can lend your support to our chosen charity - Malaria No More UK - right here.
Thanks to all those who've already opened their wallets to combat this most unpleasant of diseases. ®
Bootnote
* "Calorie" = kcal, while "calorie" = cal.
Sponsored: Minds Mastering Machines - Call for papers now open