Larry Ellison looks out from his island paradise and thinks: I wanna buy the LA Clippers
Oracle baron eyes up race storm b-ball team, we're told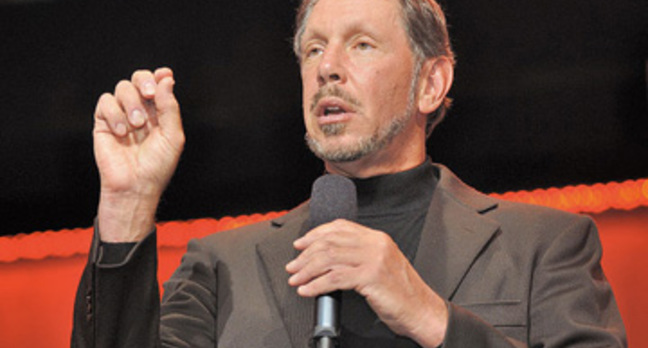 Oracle supremo Larry Ellison and TV's Oprah Winfrey are ready to buy basketball team the Los Angeles Clippers after its owner Donald Sterling was booted out of the sport, it's claimed.
The database head honcho, worth $50bn, and the telly talk-show titan, plus record producer David Geffen, are said to be keen to snap up the team if it goes up for sale. That just may happen after Sterling was banned for life from the NBA and fined for rattling off racist comments.
Geffen told ESPN that he and sports-mad Ellison would run the team, while Winfrey would be an investor (and, if this were a Hollywood sports movie, a part-time psychologist and shoulder to cry on for team members, with hilarious and heartwarming results).
"The team deserves a better group of owners who want to win," Geffen said. "Larry would sooner die than fail. I would sooner die than fail. Larry's a sportsman. We've talked about this for a long time. Between the three of us, we have a good shot."
Ellison clearly longs to lay his hands on his very own pro basketball team to add to his impressive list of billionaire stuff, like his island, airline, and yachting team. He tried to buy a majority share in the Golden State Warriors back in 2010, and he was reportedly interested in bidding on AEG, which owns the LA Lakers basketball team and the LA Kings hockey team, back in 2012.
However, a couple of obstacles stand between the tech titan and his b-ball dream. First off, even though the NBA fined 80-year-old Sterling $2.5m and barred him from the association's games, it's not yet clear whether the league's board of governors will force him to sell the Clippers.
NBA Commissioner Adam Silver has said he will urge the board, which is made up of all 30 team owners, to oust Sterling, but three quarters of them need to vote in favour to force him to sell up. However, given the public outrage over Sterling's comments, it would be difficult for any owner to support him.
If the team does go up for sale, Ellison is likely to have some competition for the bid. According to ESPN, music producer Sean Combs (aka Puff Daddy P. Diddy), boxer Floyd Mayweather and former basketball star Magic Johnson are all interested in the team, while USA Today reported that actors Matt Damon and Frankie Muniz have both said they'd like a minority stake. ®
Sponsored: Fast data protection ROI?