Stone the crows, Bouncer! BT defends TV recorder upgrade DELETION snafu
Claims data laws meant update had to wipe telly shows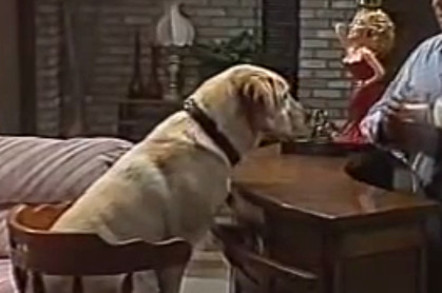 BT has dismissed gripes about a recent upgrade to its television recorder box, after the telco giant's update deleted programmes and came loaded with glitches.
A reader told The Register that he only got a two-day warning that everything on his BT Vision kit would be wiped when the software was upgraded.
Exactly that happened, our reader claimed, just 48 hours after BT told its customer about the update. Worse still, the upgrade is hampered by bugs, he said.
"The new software can't cope with recording a series - e.g. you try to record say Neighbours (I know, but my wife likes it) at lunchtime each day, and after a few days it randomly decides to start recording the show on a different channel in the evenings instead - which means if it picks a high def channel you don't get any recording at all," he added. "I tried to complain to BT about the recordings being deleted and their response was 'did you get any notice', 'yes, two days'. 'OK, so you have no right to complain'."
A BT spokesman insisted to el Reg that customers it had pushed the upgrade to "were notified in advance, with the first communication being sent a month before the changes."
Subscribers were apparently informed about the update via email, post, recorded voicemails on home phones and missives sent to subscribers' BT Vision+ inboxes.
As for the peculiar deletion of content from the box, the BT spokesman defended the move by citing legal constraints:
To make the new service available, we needed to remove the old software from the BT Vision+ box, including the recordings. Copyright and data protection laws protect all recordings, so unfortunately when we upgrade customer's boxes, as much as we'd like to, we can't copy their recordings and transfer them back to them.
As for the software being packed with gremlins, the BT spokesman said:
We did have a problem affecting a small number of customers where recordings occasionally changed to HD channels without the customer requesting this. If the customer didn't have an HD subscription for Extra TV channels, the recording would show as blank.

This issue was resolved in December. We're sorry that the customer who contacted you, is not enjoying the new look and feel as much as we'd like. The response we've had from customers so far is that once they've had time to get used to the new layout they enjoy using it.

We're always looking for ways to improve the menus so we'd like to thank your reader for his feedback. It's worth noting that the remote control can be used like a mobile phone to enter text in the search box.
The spokesman added that BT was apologetic to customers who had had problems with the box, as noted in the heated comment section of this broadband checker website. "Our research shows that the vast majority of customers are happy with their service," he added.
One unhappy camper said:
Cannot stress hard enough, anyone thinking about BT vision with upgraded software please for you own sakes think again! Terrible software, terrible layout, I get 20Mbit/s broadband but still the channel swapping and selection hangs and buffers, playback and pause controls are clunky.
While another fed up subscriber complained:
Avoid this service like the plague since BT upgraded (joke) the Vision box this has been a nightmare updates itself in the middle of programmes, constant poor signal messages and the worst customer service I have ever dealt with.
Our reader, who has been griping to the one-time national telco for days about the poor service, told us he was disappointed with BT's responses to him and The Reg.
He claimed that BT "did not provide a month of notice. I had a single on screen message a couple of days before the box upgraded itself."
"The intellectual property law claim is a joke," he added. "There is no copying of the recording to another device, this is the same hard drive in the same box, in the same house. They upgraded the software that is all. Most operating systems can upgrade without claiming an IP reason to delete all content from the device."
A sorry tale, then, which shows how Neighbours don't always become good friends who stick around on our telly box. ®
Sponsored: Minds Mastering Machines - Call for papers now open