Marauding quid-a-day nosh hack menaces teepee hippie villages
Lentil-busting operation, as fellow posse members resist cake/canteen temptation
Meanwhile, Neil fights off temptations left, right and centre
Also on top of the challenge is Neil Barnes, whose breakfast yesterday comprised "homebrew muesli (oats, sultanas, desiccated coconut and milk) and a couple of slices of homemade sourdough bread, rounded off with a cup of Lapsang* when I got to work".
Neil's missus Anita, who's also living below the line, kicked off her day with "a slice of toast and a cup of Lapsang", before tucking into "a tomato and some of the sprouts for lunch".
Quite what Neil had for lunch we know not, but he did say someone had rather unkindly brought a cake into work. I earn a crust from the safety of my own home, so am mercifully spared such temptations. I applaud my fellow team members for their fortitude - in Chris's case in the face of terrible deprivation. He told us last week: "I'll be going to a client and this client has a canteen. I like canteens. No, more than that, I really, really like canteens."
Back at the Barnes' canteen, Neil and Anita last night enjoyed a curried chickpea concoction with a little rice – total cost (and Anita had two helpings) £0.92.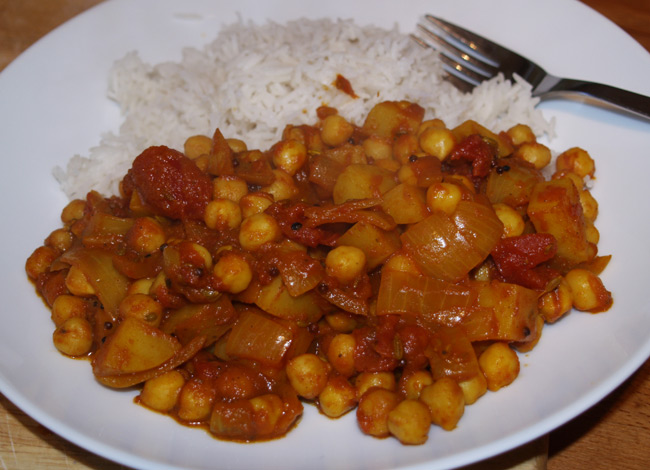 That'll be 92p, sir. Would you like to see the Lapsang Souchong list?
Looking good. I must confess I'm a little jealous of all this variety, having taken the chickpea stew/rice mono-menu line of attack. Yesterday I committed 1kg of chickpeas to the steel pot, and here's the finished product after around three hours atop the fire: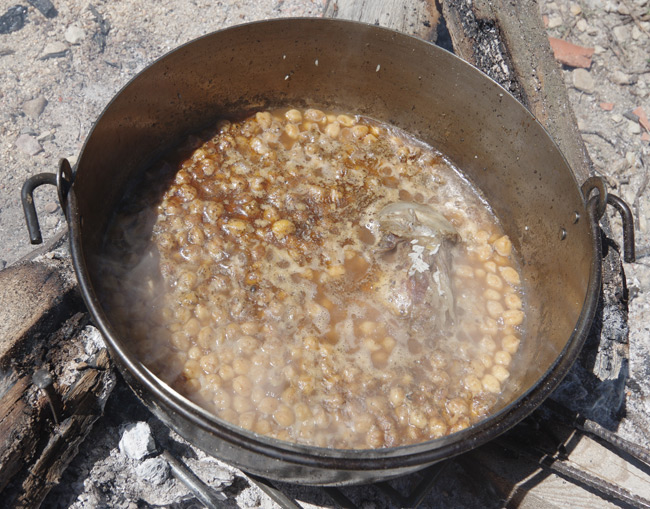 Hmmmm... just a soupçon of the great outdoors
The result's pretty tasty, with an agreeable hint of oak smoke and perhaps just a soupçon of springtime country air and a slight bouquet of roast olive oil.
To complement the stew, I've got 2kg of long-grain rice for the week. That's a whopping 400g per day, and here's what 200g looked like at the dinner table yesterday: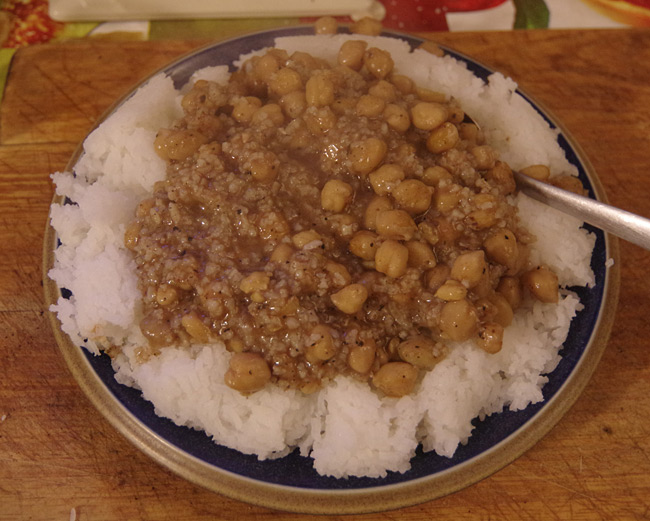 Way too much rice
That's far too much rice, and half of what you see above is now sitting in the kitchen while I ponder a creative culinary use for it that doesn't involve spending any money.
In hindsight, I could have used some my rice budget on lentils, but there's one slight problem: I can't stand the bloody things. Don't get me wrong, some of my best friends eat lentils. Actually, that's not true. I have friends who know people who may at one time have eaten lentils.
It's a not an issue of taste, it's rather that every time I'm faced with a lentil dish I have the overwhelming desire to torch a teepee village, driving screaming hippies into the open where they can be peppered with lard-filled paintball pellets.
On that note, I'm off to the woods with the mutt pack to forage for mushrooms, and God help any alternative-lifestyle yurt settlements we stumble across.
While I'm culinarily cleansing the mountainside, please show your support for the nosh posse by making a donation to Malaria No More UK – the beneficiary of all this tomfoolery.
As of this morning, we'd raised a healthy £450, but surely we can do better? ®
Bootnote
* The tea aficionados out there will recall we've previously called Neil to task on this Lapsang Souchong business. Mate, get yourself some proper thousand-bags-for-a-tenner industrial brew, and enough of this pseudo-cha nonsense.
Sponsored: Minds Mastering Machines - Call for papers now open