Selfies are so 2013. Get ready for DRONIES – the next hipster-cam-gasm
When I said shoot me, I meant a photo, not a missile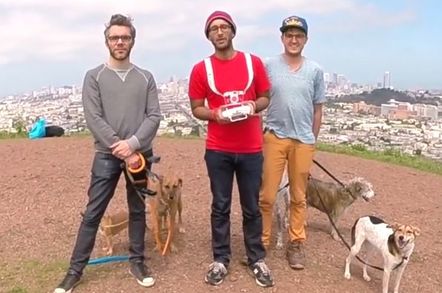 Vid It's the social phenomenon that's taking self-obsession to new heights. We're not talking about selfies, granddad, and we're not even referring to belfies.
The latest self-portrait craze to grip the narcissists of the internet are called dronies – and involve using a remote-controlled aircraft to snap images.
Anyone who is overweeningly self-regarding and rich can choose to take part in the new "trend", which involves taking a picture of oneself using a DRONE.
Here's an example of the trend, shot by a chap called Amit Gupta who runs a rental company that hires out camera-equipped drones. After he posted the video, the word dronie was used for the very first time in the comments beneath:
This bizarre pursuit certainly seems hip, judging by the popularity of a Kickstarter project to design a camera-equipped drone. The Pocket Drone team are looking to raise $35,000 (£20k), but smashed the goal and have so far amassed almost $930,000 (£553k) instead.
In its blurb, the team behind the selfie-copter claimed 2014 will be "year of the drone".
"Until now, most people could not participate in this awesome new technology revolution," it said. "The cost was too great, the drones too bulky, and the software too difficult to operate. And to top it off, it always seemed like either mom or dad (the photographer) was missing from family pictures. We're proud to announce the launch of The Pocket Drone to address these challenges. Many of our supporters are calling it the GoPro of drones."
So what would we call this camera wielding minicopter? The sky-selfie-snapper perhaps? The cloud camera? A minted man's mirror? Let us know what you think of this emerging trend. ®